Bulgaria's Justice Minister: No Geshev and No Sarafov!
Politics
|
May 16, 2023, Tuesday // 10:11
Send to Kindle
Prosecutor General Ivan Geshev (right) and his deputy Borislav Sarafov (left)
"What we heard yesterday is just confirmation of what some of us have been saying for years - we heard a certain case being used - suddenly mentioned in a certain context.
Another says that (regarding) this case there have been attempts to drop it - these are frank confirmations of what we have been saying - that there are cases that are being used for political reasons."
This is how Justice Minister Krum Zarkov summarized what happened yesterday to Nova TV this morning. He clarified - the chief prosecutor and his deputy are accusing each other of capital crimes. And he asked: do we have a mechanism to find out who is right, referring to the defunct law to investigate the prosecutor general, which has met with fierce resistance or simply there were shenanigans among the parliamentary majorities for a year.
When asked about what crimes he sees data for, he listed:
"At the very least abuse of influence, unregulated interference in affairs, threats. Mr. Sarafov said he was afraid for his life - what more?!"
On the occasion of the desperate state of the prosecutor's office and its use for political repression, he specifically emphasized:
"And that's not from now, it's not even from Ivan Geshev! We see that decisions are made through text messages, chats, photos."
In addition to the fact that it became clear that he had already provided security for Borislav Sarafov, Zarkov admitted that his power was not much - it extended to the point that he asked about many violations to the Inspectorate, which, however, is "another constitutional body with an expired mandate, which didn't do anything."
When asked - who can take action then, he reminded that "the only constitutional arbiter is the SJC".
The Minister of Justice called on the members of the SJC not to hide:
"There is a way out of the situation and it is not eccentric - let everyone do their job."
According to him, the Supreme Judicial Council will find a solution to this case and "they cannot and should not hide".
However, its composition should be replaced sooner rather than later and it should start acting according to the standards that have been laid down, urged the Minister of Justice.
Zarkov said that in the fastest way, the parliament should activate the legal changes that have been introduced. And that they are not only for the investigation of the Prosecutor General, but there are also important things regarding the SJC:
"Is there any greater confirmation than what happened that it is not right for the parliamentary quota to elect acting prosecutors," he asked rhetorically.
It is important to note that the same prosecutors in their respective collegium first elected Geshev, then followed him and carried out whatever he said without question, and after the words of Mariya Gabriel from GERB that he should be replaced, they experienced a catharsis and proposed him for impeachment.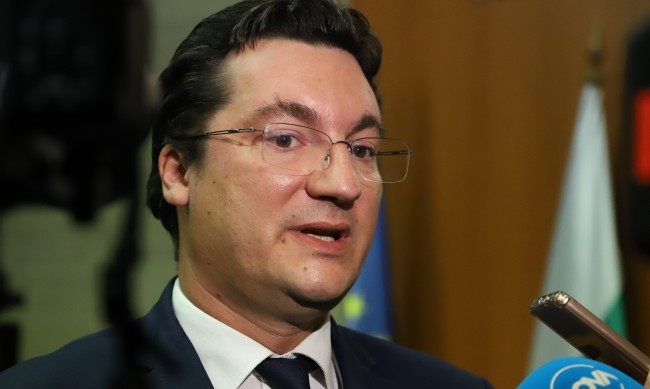 Zarkov also stated:
"And now all those who were telling me that this is nonsense, that everything is fine, that anyone can investigate, that there are no problems, that this is just political gum, I hope they will revise their statements."
He is adamant that even if a member of parliament had doubts, he can now understand that such a mechanism is needed.
He also described how he would act in this situation if the law on control over the chief prosecutor was in force: the Criminal Board of the Supreme Court is appealed, which appoints a magistrate - a supreme judge or one with the rank of supreme judge. He will become an ad hoc prosecutor and will be able to investigate this matter, "without doubt that before or after the investigation he was under the influence of those he was going to investigate."
If he deems there is incriminating evidence, another is chosen to watch him.
He also had to answer a question - would he give a profile of who he thinks is suitable to be the chief prosecutor. Zarkov said he could tell who it shouldn't be.
"None of them. Neither Geshev nor Borislav Sarafov, in my opinion, should fulfill the function as the chief prosecutor."
Because, Zarkov pointed out, Borislav Sarafov, by presenting unflattering data, must declare that he does not want to become the chief prosecutor.
According to Zarkov, the most important thing is that what happened shows "how deep - not in the shadows, but in the underground, some institutions have gone".
"The guardians of the judicial status quo yesterday reached a limit - everything, everything that we doubted and criticized was spoken from within - from the highest level of the system itself."
However, he insisted on emphasizing that he was not referring to nearly 2,000 magistrates - prosecutors and investigators who honestly and conscientiously perform their duties.
According to Zarkov, the worst thing now would be for nothing to happen:
"Another scandal, a 'bombshell', a few texts and 'we're moving on.'
And although he characterized what happened as a chance for change - for politicians to unite in order to break with this vicious circle, he was also asked a question: what would happen if they united for the opposite - to preserve the system. Viktor Nikolaev, referring to what Geshev said yesterday - that he was threatened that "someone will press ENTER", asked the minister - what will happen if someone presses DELETE.
"I want to tell the writers of this kind of development that this will only delay things and they will explode soon. Either from the inside or from the outside," announced Zarkov.
But with a smile he admitted that he did not know "who is behind the keyboard".
Mincho Spasov: The Supreme Court should immediately remove Geshev, Sarafov and Todorov
"Everything has a crack, and light comes in from there. We see that information and even the smell of the decaying flesh of the prosecution comes out of the crack between these two heads of the prosecution." This was stated by the laywer Mincho Spasov of the Bulgarian National Rado.
Even institutionally, the prosecutor's office flooded the public with falsehoods, he emphasized, and was categorical that the job of the chief prosecutor is to keep the prosecutor's office in good shape, not the people.
"Very soon it will be known whether the SJC is waiting for a command on how to act or will act according to the law. If it acts according to the law, the three heroes of this drama should be immediately removed from their positions. It is obvious that they are all using their positions to influence other magistrates, associating with politicians, etc. - things they accuse each other of. The three magistrates should be punished, all three should be removed from office immediately, regardless of the outcome of the investigation itself If it doesn't happen, it would mean that the puppeteers have made the right move," said the lawyer categorically.
According to him, the chief prosecutor had proposals not only from Boyko Borissov, but also from Delyan Peevski: "According to my information, Geshev dosed the truth yesterday. He actually had such a call to him a few months ago. This was during the time of Prof. Gabrovski, when the mandate was handed to him. And Geshev actually did not accept the offer then, he even took offense at Borissov and began to call him a 'traitor' in front of relatives. But then he received a similar call from Peevski, which he already trumped. He saved this information from the public. Both of them had one-way proposals for him to withdraw from the post. The fact that he speaks of treason means that they were comrades."
GERB had given a concession of the judicial power to DPS, said Mincho Spasov. According to him, everything else we have seen in recent years confirms this.
He emphasized that nothing surprised him in Ivan Geshev's statement yesterday. According to him, part of the media misinterpreted what the Prosecutor General said that he was threatening to clean up the political garbage:
"I carefully listened to his speech. At the end, he said something completely different – 'It's time to clean up this garbage. This is not my job, it is the job of the Bulgarian people if they think this is important. It is important for me as a citizen'. From these words, it appears that he does not intend to use the tools he has as the chief prosecutor, the strongest repressive body in the state, but intends to enter the political field, possibly create a new party and so to fight against the political trash, which is a shame".
"His right-hand man - Yasen Todorov, said that he is not a supporter of any political party, none of the current parties really impress him. This is another request that he and Geshev agreed to form a political party. The actions, which they are now undertaking are artillery training to recruit sympathizers".
Spasov emphasized that he is worried about the SJC, which is the key institutional player. Not only the prosecutor's quota is corrupted, but unfortunately also the judge's quota, he believes.
"If we have a standing Inspectorate and the SJC, it must first investigate how the random distribution of cases was carried out, so that all key cases fall either to some of Mr. Geshev's classmates or to people who are very close to him, and not with random prosecutors. Second, it is necessary to establish exactly what procedural rules are necessary to solve the 'Barcelonagate' case, for which Mr. Geshev mentioned that it was necessary to pass a whole year. I know that in the Criminal Procedure Code the deadlines for carrying out judicial actions are two months. What exactly complicated procedures does this case expect, that he ordered the supervising prosecutor from the Supreme Cassation Prosecutor's Office to comply with the law. Mr. Geshev has no right to order around in any way, because every prosecutor is obliged to comply with the law without exception," commented Mincho Spasov.
Follow Novinite.com on Twitter and Facebook
Write to us at editors@novinite.com
Информирайте се на Български - Novinite.bg
/Nova TV, Club Z, BNR
We need your support so Novinite.com can keep delivering news and information about Bulgaria! Thank you!
Politics
» Be a reporter: Write and send your article