Russia allegedly thwarted Ukrainian Sabotage in Crimea: A Bulgarian was also Detained
Send to Kindle
Russia's Federal Security Service (FSB) says it has arrested a group of saboteurs suspected of plotting assassination attempts against senior officials in annexed Crimea. The case involves seven people - Ukrainians, Russians and one Bulgarian. According to the FSB, they were preparing assassination attempts against the head of the annexed Crimea, Sergey Aksyonov, and two other representatives of the occupation authorities, as well as sabotage of "elements of the transport infrastructure".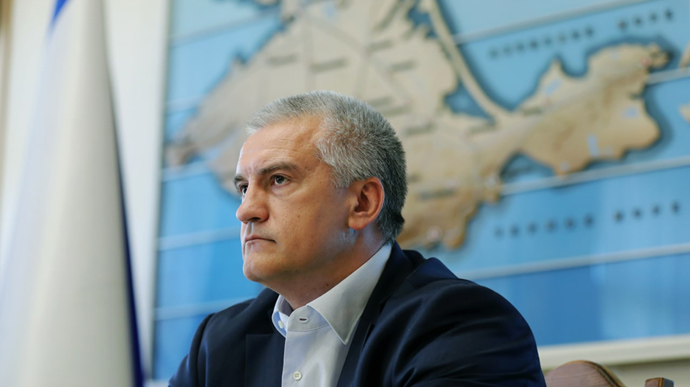 The FSB released a video purportedly showing the arrest of the group's members, as well as the explosive devices and explosives found in their possession.
"It has been established that the direct organizer of the terrorist attacks and the coordinator of the preparation of the murders of high-ranking officials is a close associate of the head of the GRU of the Ministry of Internal Affairs Kirilo Budanov - the military intelligence reserve officer Roman Mashovets, born in 1976, who from 2020 held the post of deputy head of the office of Ukrainian President Volodymyr Zelensky," the FSB claims.
The #FSB claims it had arrested "agents of the #Ukrainian military" in #Crimea who planned sabotage against the Gauleiters of the region.

The occupiers stated that the arrested people prepared the murders of high-ranking officials. pic.twitter.com/VaWCu5RuPA

— NEXTA (@nexta_tv) May 3, 2023
In the recording, a man identified as Viktor Podvalny claims to have been recruited by Ukrainian military intelligence official Roman Mashovets in mid-June 2022. Podvalny is said to have "cooperated with Ukrainian intelligence" because his sons avoided conscription in Ukraine.
Podvalny claims to have operated under the pseudonym "Socrates"/"Сократ". He communicated with his "leaders" via WhatsApp and Signal. According to him, the task of the detainees was to find people ready to cooperate with the Ukrainian intelligence and special services. He managed to attract several people - Igor Zorin, Konstantin Evmenenko, Sergey Voironovsky and Alexander Litvinenko.
The detainee also claimed that the explosives for the preparation of the "terrorist attacks" were transported in electric stoves. One of the explosive devices, according to him, was detonated in Bakhchisarai. In addition, Podvalniy claims that he was supposed to monitor the Russian head of Yalta, Yanina Pavlenko, all of Crimea, Sergey Aksyonov, and the Russian parliament on the peninsula, Vladimir Konstantinov.
Russian security services listed the evidence they found on the suspects as "five ready-to-use" bombs, six kilograms of "British-made" explosives, military-grade electric detonators, radio-controlled mechanisms, tracking surveillance devices.
Ukrainian authorities have not yet commented on the FSB's statement. Ukrainian Telegram channels called the FSB operation a staged operation.
Read more from the 434th day of the war in Ukraine.
Follow Novinite.com on Twitter and Facebook
Write to us at editors@novinite.com
Информирайте се на Български - Novinite.bg
We need your support so Novinite.com can keep delivering news and information about Bulgaria! Thank you!
Ukraine
» Be a reporter: Write and send your article