Day 363 of the Invasion of Ukraine: Russia has threatened Nuclear Tests and suspended its Participation in the New START (UPDATED)
Send to Kindle
@Twitter
Here are the highlights of events related to the war in Ukraine over the past 24 hours:
Russia has threatened nuclear tests and suspended its participation in the Strategic Offensive Weapons Treaty
"Today I announce that Russia is suspending its participation in the Strategic Offensive Weapons Treaty," said today President Vladimir Putin in his annual address to the country's Federal Assembly.
He also said - almost 2 hours into his speech - that Rosatom and the military would prepare the country to resume nuclear testing if the US did so.
Putin stressed that this is not the termination of the latest START international nuclear arms control treaty between the US and Russia, but that "we are only suspending our part".
According to him, the US was already developing the testing of "individual samples" of a new nuclear weapon, and we know that "certain figures in Washington are discussing natural tests of their nuclear weapons." "There is such information," he added without elaborating.
This happens a few hours before US President Joe Biden's expected speech in Warsaw this evening, related to the first anniversary of the Russian aggression against Ukraine.
In the preface to the message, Putin described that NATO called on Russia to return to START and resume inspections by foreign teams - "this is some kind of absurdity, they are bombing our strategic airports through the Ukrainians, and now they want us to show them more information, this is some kind of madness".
Citing once again that in the West they are talking about a strategic defeat of Russia in Ukraine (which he always translates as destruction and looting of Russia), Putin explained that "they don't let our inspectors in, we can't check anything, (...) and we drive them to our strategic sites?" He said that a request came from NATO for the alliance to participate in the Treaty on Strategic Offensive Weapons, to which Moscow agreed and there was a long-standing basis for this, "because there are two more nuclear states (Great Britain and France) and are also directed against us, against Russia." "Especially today, we can't ignore that."
Before that, there was another tirade in his speech that "the US revised the results of the Second World War in the name of one world master, crossed out both Yalta and Potsdam, dismantled the security system, started a whole series of wars - to damage the architecture of international relations. That's how it is in practice. They don't take into account Russian and other interests." Now they're giving us an ultimatum on Strategic Assault Weapons, "but we're going to be reasonable."
Putin described a military and self-sufficient Russia in a speech to the nation
Russian President Vladimir Putin delivered his annual address to the country's Federal Assembly today, in which he detailed a wartime country, spoke of a "self-sufficient Russia" and called on entrepreneurs to give up money taken abroad, luxury properties and yachts and do business only in the Motherland.
His speech before both houses of parliament, the government and the leadership of the state and the spiritual communities painted a picture inside and outside the borders of the country, in which he is absolutely innocent of the bloodshed he started in Ukraine, and the West is so morally bankrupt that everyone must bring their children and loved ones back from abroad to save them.
His speech was delivered just hours before US President Joe Biden spoke in Warsaw on the occasion of the first anniversary of Russian aggression against Ukraine.
In the social sphere, Putin once again behaved as if the listed problems were not due to his nearly quarter-century rule and spoke of grandiose projects such as a highway to China or developing the Trans-Siberian and Baikal-Amur railways built decades ago.
The economic part of his speech was peppered with generous promises of tax cuts, tax exemptions and rent surcharges, but no answer as to where these trillions of rubles would come from when the war was consuming enormous resources every month. Over the past year, a significant part - probably around a third - of the structure of the Russian budget has been classified
Putin talked about how important Russian private business was to the success, announced tax breaks especially for big entrepreneurs, and repeating "the state will help you" seems more like an attempt to reassure rich Russians that there will be enough compensation for them and the Kremlin will not prevent them from getting even richer as long as they refrain from alternative political projects.
For international relations, the most important thing is the freeze of Russia's participation in New START, the latest nuclear arms control treaty with the US, announced at the end of the nearly two-hour speech. He also announced that the Defense Ministry and Rosatom were beginning preparations for Russian nuclear tests if the US was the first to take that step, which was "reportedly" being considered in Washington.
For the domestic situation, two things seem to be key: the announcement of numerous programs and a special aid fund for the participants in the war in Ukraine (which gives the impression that Putin is moving to the option of a protracted and long-term conflict), and the warning to Russian business.
The second he called a "philosophical digression," but it actually verged on thinly veiled threats:
"We know what problems the economy of the USSR faced, and that's why in the 1990s it was created on the example of Western countries and with Western advisors. It was considered sufficient to copy their models. Our national economy is largely oriented towards the West and primarily as a source of raw materials. The reasons are clear - the new Russian business made a quick and easy profit. And it brought nothing to the country except selling resources instead of investing in other sectors. It took us years to break this system, we achieved visible changes. But let's take into account the situation in which our big business was developing - Western technologies, capital from the West, Russian money flowed there, businessmen spent it on properties, yachts, elite real estate," the president described his favorite picture of the terrible, in his opinion, first decade after the collapse of the Soviet Union.
"And where the wealth is, there are the children, their education, their future. It was very difficult to prevent such a development. Recent events have shown that the West is a ghostly quiet place to keep your money. They lost many who took their money there, even legally earned. I told them they would waste their time in Western offices trying to get their money back, and so they did. None of the ordinary citizens in Russia felt sorry for those who lost their money, their yachts, their palaces. In conversations in their kitchens they recalled the privatization of the 1990s and the demonstrative wealth of the new elites," added Putin, although the super-wealth of Russian oligarchs from his personal circle reached unprecedented proportions in his time.
"Big Russian business is responsible for strategic enterprises, responsible for the situation in entire regions, people there find themselves dependent on governments of enemy countries, this is a great danger for Russia. This cannot be tolerated (applause).
Someone wants to live out their life in a mansion abroad with blocked accounts. But for the West such people will remain fourth quality foreigners and nothing will help you, no bought titles of counts. But there is another choice: to be with your Motherland. I want to be heard by those who are faced with the wolfish manners of the West - it is pointless to run with outstretched arms and beg for money.
There is another choice - to be with your country, to work for your compatriots, to change the life of cities, there are many such fighters in business and for them it is the future of domestic business. The sources of prosperity and the future of business must be here in Russia. We will create a healthy, self-sufficient economy. Huge prospects are opening up.
It is pointless to run with outstretched arms to ask for your money, don't cling to the past, build your business here, launch new projects, invest in Russia, help with jobs, schools, healthcare. Thus, for a generation to come, you will have the recognition of the people. The state will unconditionally support you (huge applause)."
"Invest in Russia and save capital and earn the gratitude of society. We will consider this a parting word for our business," the president summed up.
Regarding the progress of the "special military operation", he said that "step by step, we will accurately and consistently solve the tasks before us". Whatever that means.
This was followed by detailed thanks to the military units, to the teachers, to the volunteers helping at the front, military correspondents, military chaplains, civil servants and entrepreneurs "fulfilling their civic and human duty", to the residents of Donbas, Zaporizhzhia and Kherson, who with "referendums " firmly chose to be with their Motherland... Which was greeted by thunderous applause and standing up.
He announced that the Sea of Azov is now internal to Russia and that they will develop the ports and cities, but without announcing any specific program and timelines. The regional authorities, not the central one, are responsible for the "restoration of this land of ours".
After another parallel with the Great Patriotic War, Putin "suggested" the creation of a special fund to compensate and assist those involved in the current aggression, the relatives of the dead and wounded, to retrain in high-tech specialties... Already this year, the fund should be deployed in all regions, "in the shortest possible time to solve the issues".
Announced an additional leave of 14 days each year for combatants, regardless of travel days from the territory of Ukraine, to be with family and loved ones.
Those who have been at war should be employed in the civilian sector.
Construction and development of the Military Industrial Complex (MIC) and the army "on the basis of the invaluable experience of the war in Ukraine to reach the maximum level of the state of the armed forces. There must be mass production of high-tech weapons", is another of his vows. There will be a special program for accommodation of MIC employees in housing at preferential interest rates on bank loans or rent, which will largely be covered by the state.
Russian state media websites went down during the live broadcast of Putin's speech to parliament
Russian state media websites broadcasting President Vladimir Putin's address to both houses of parliament today went down during his speech, Reuters reported.
Journalists from the agency, located in various places around the world, cannot at certain times enter the website of the All-Russian Television and Radio Broadcasting Company (VGTRK) or watch Putin's speech live on the Смотрим platform.
A message on the VGTRK website states that "technical work is being carried out" and the "Смотрим" website is not loading.
Shortly before the speech began, Russian state television broadcast a report on the technical preparations, which said the live broadcast would be broadcast on all major Russian television channels, Reuters noted.
RIA Novosti reported that the outage was the result of a denial-of-service (DDoS) hacker attack.
At least six people were killed in Russian strikes on Kherson during Putin's address
At least six people were killed today in Russian strikes on the southern Ukrainian city of Kherson, which the Ukrainian army recaptured in November, AFP reported, citing a senior Ukrainian military official.
The attack coincided with Russian President Vladimir Putin's annual address to both houses of parliament.
"Precisely at the time of the speech of the bloodthirsty dictator Putin, the enemy hit residential buildings, critical infrastructure," the spokesman of the Southern Regional Command of the Ukrainian army, Vladyslav Nazarov, announced in Telegram. He added that according to preliminary data, there are "six dead and 12 wounded".
5 people killed, 21 wounded as result of Russian shelling in Kherson https://t.co/7TTxHD3wyp via @UKRINFORM pic.twitter.com/yACNB7lORH

— Liveuamap (@Liveuamap) February 21, 2023
Putin has launched a war of imperial conquest against Ukraine that he must not win, NATO's secretary general has said
"Russian President Vladimir Putin has launched an imperial war of conquest against Ukraine that continues to deepen. He thought he could destroy Ukraine and bring division among us, he underestimated the determination of Ukrainians to protect their homeland and our unity." This was stated by NATO Secretary General Jens Stoltenberg at a joint press conference at the headquarters of the pact in Brussels with the EU High Representative for Foreign Affairs and Security Josep Borrell and the Foreign Minister of Ukraine Dmytro Kuleba.
"A year after the start of this war, we see no signs that Putin is preparing for peace. As he stated today, he is preparing to continue the war. Putin should not win because that would mean that aggression wins and strength is rewarded. It will be dangerous for our security and for the whole world. Therefore, we must continue and increase support for Ukraine," urged Stoltenberg.
"No one is attacking Russia, Russia is the attacker and Ukraine is the victim. A year ago, Putin launched an unjustified war against his peaceful neighbor. We support Ukraine's right to self-defense enshrined in the UN Charter," the Secretary-General added.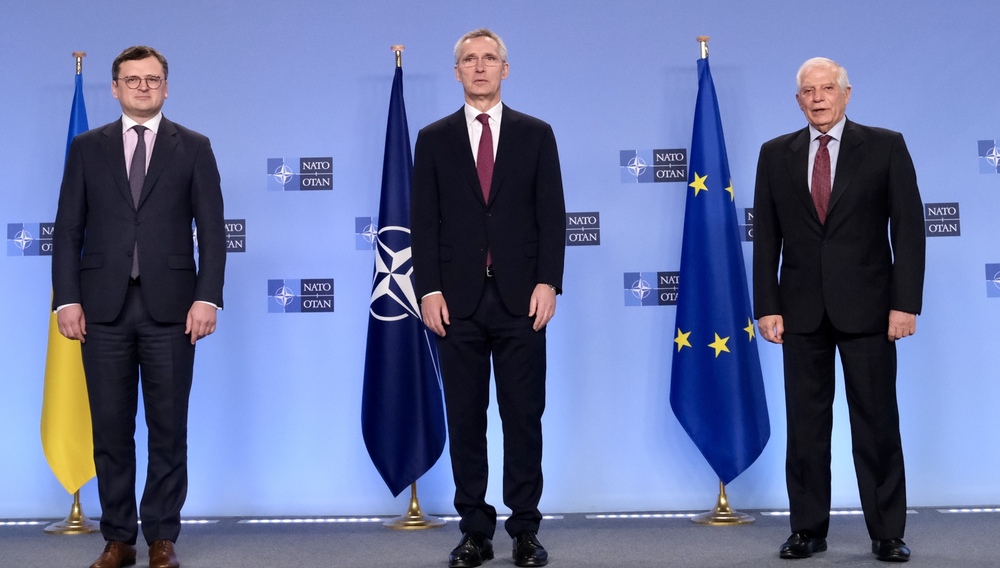 He expressed concern about the possibility of China providing arms to Russia. Stoltenberg called on Moscow to return to the New START treaty after Putin announced earlier today that Russia was ending its participation in it. "In recent years, Moscow has violated and withdrawn from key arms control agreements," Stoltenberg noted. "Today's decision breaks down the entire arms control system. I strongly urge Russia to reconsider and respect existing agreements," he added.
Borrell noted that in his talks with the Chinese side, he received assurances that Beijing would not supply Russian forces with weapons. "Russia is destroying cities instead of taking a step back toward a ceasefire as we are calling for", he pointed out. "Our support for Ukraine is necessary for the rule of law to defeat the rule of force and arms," he summarized.
"Our goal is to end the war as soon as possible with a victory for Ukraine, this is inevitable," said Kuleba. He announced that he had a meeting with representatives of China in which Beijing's peace plan was discussed. "We are waiting to receive text to draw conclusions. Finding a way to peace remains our primary goal," Kuleba said. "Ukraine and China share the vision of territorial integrity, so everything Beijing does regarding the war in Ukraine should be aimed at protecting Ukrainian territorial integrity," the Ukrainian foreign minister summed up.
Russia summoned the US ambassador to protest military aid to Ukraine
The Russian Foreign Ministry said today that it had summoned the US ambassador because of Washington's "aggressive course" and accused the US of increasing its intervention in the conflict in Ukraine, Reuters reported.
"In this sense, the ambassador was told that the current aggressive course of the United States to deepen the confrontation with Russia in all directions is counterproductive," the statement said.
The Russian Foreign Ministry added that it had called on the US to provide an explanation for the explosions that damaged the Nord Stream gas pipelines last year.
Meloni is visiting Kyiv "to learn about the needs of the Ukrainian people"
Italian Prime Minister Giorgia Meloni said today that she is visiting Ukraine to confirm her government's support for Kyiv after the Russian invasion and to personally inform herself about the help that the Ukrainian people need, ANSA reported.
"It's an honor," Meloni said as she got off the train to Kyiv.
"I think it is my duty to be here to reiterate the position of the Italian government, as well as to inform myself personally of the needs of a people fighting for its freedom. Things always look different when you see them with your own eyes, and I think this (visit) will also help the Italian people understand them," Meloni said.
"I am curious and determined to find out what the Ukrainian people need," she added.
Meloni arrived on a visit to Ukraine a few days before the first anniversary of the Russian invasion of the country, notes ANSA.
The Italian Prime Minister will visit Bucha and Irpin - cities where hundreds of civilians were killed and which have acquired great symbolic importance for the Ukrainian resistance. In the afternoon, Meloni will hold a conversation with Ukrainian President Volodymyr Zelensky.
Italy's first female prime minister took office in October last year and continued her predecessor Mario Draghi's policy of full support for Kyiv and sending military aid, ANSA said.
At her meeting with Zelensky, she is expected to emphasize that as long as she is in power, Italy's support for Kyiv will remain unwavering.
Meloni's visit to Ukraine comes amid a public outcry over criticism of Zelensky by former Italian prime minister and Forza Italia party leader Silvio Berlusconi.
Another representative of the ruling coalition in Italy - Deputy Prime Minister and Minister of Sustainable Infrastructure and Transport Matteo Salvini - has expressed reservations about sending military aid to Ukraine. Salvini, who is the leader of the League party, was an admirer of Russian President Vladimir Putin, but criticized Moscow's invasion of Ukraine, ANSA recalls.
Belarus has raised the alarm about the gathering of Ukrainian troops on its border
Belarus said today that a large group of Ukrainian troops was near its border and warned that it posed a threat to its security, Reuters reported.
"Currently, a significant grouping of the Ukrainian army is concentrated in the immediate vicinity of the Belarusian-Ukrainian section of the state border," the Ministry of Defense said in a Telegram post.
"The likelihood of armed provocations that could escalate into border incidents has been high for a long time," the statement said, adding that Minsk would take "adequate response measures" but would act in a restrained manner.
Reuters could not immediately verify the situation at the border.
Belarus allowed Russia to use its territory when it invaded Ukraine a year ago, and President Alexander Lukashenko said last week that his country was ready to do so again, the agency noted.
For months, Kyiv has raised concerns that Belarus could join the war on Russia's side, a potential threat that has forced Kyiv to redeploy troops to protect northern Ukraine while it fights Russia to the east and south.
Lukashenko claims that Belarus would join the war only if attacked by Ukraine.
Belarus creates volunteer units
Belarus creates volunteer units on the orders of President Alexander Lukashenko. Speaking to the Security Council of Belarus, he said the country needs paramilitary forces amid the war in Ukraine.
China has expressed "deep concern" over the escalation of the conflict in Ukraine, and Ukrainian President Volodymyr Zelensky has said the war should end this year with the liberation of the occupied territories.
Developments in Ukraine, as Lukashenko put it, force him to build additional defenses "in every town or village" in addition to the 45,000-strong Belarusian army "in case of aggression".
Defense Minister Viktor Khrenin clarified that the Territorial Defense Force will number between 100,000 and 150,000 volunteers.
A year ago, Lukashenko allowed Moscow to invade Ukraine from Belarusian territory. Last week, the president made a surprise visit to the Kremlin.
China also expressed concern about the escalation of the war in Ukraine. Foreign Minister Qin Gang called on "certain countries" to immediately stop adding fuel to the fire. "We continue to promote dialogue for peace and work with the international community," the minister added this morning in Beijing.
While US President Joe Biden made a surprise visit to Kyiv yesterday, China's top diplomat arrived in Moscow to present the Chinese initiative for peace in Ukraine, which he announced at the Munich Security Conference.
After Joe Biden's visit to Kyiv, Ukrainian President Volodymyr Zelenskyy said in his traditional address that Kyiv is working on the delivery of long-range weapons and other types of weapons that have not been included in Western aid packages so far.
"Now in Ukraine, the fate of the entire world order, which is based on rules, on humanity, on predictability, is being decided," said Zelensky, who thanked for "unwavering support."
Late last night, Joe Biden arrived in Poland, where he is expected to give a speech about the war and meet with the leaders of the so-called Bucharest Nine - NATO member countries from Eastern Europe.
So far, there are no official reactions from Moscow regarding the visit of US President Joe Biden to Kyiv.
The Kremlin has drawn up a plan for the creeping annexation of Belarus until 2030
The Kremlin has drawn up a detailed plan for the "creeping annexation" of Belarus by political, economic and military means until 2030. This is reported by the Dossier center.
According to the plan drawn up in the fall of 2021, the Kremlin intends to create a Union State between Russia and Belarus no later than the end of the decade. The document is only 17 pages long and outlines the political, defense, commercial and social goals of the Russian authorities in Belarus. They are divided into short-term (until 2022), medium-term (until 2025) and long-term (until 2030).
The plan includes "harmonization" of Russian and Belarusian laws, a "coordinated foreign and defense policy" and "commercial and economic cooperation" based on Russian interests. The plan also talks about "ensuring preferential influence of the Russian Federation in the socio-political, commercial-economic, scientific-educational and cultural-information sphere" of Belarus.
The General Staff of the Russian Armed Forces, officers from the GRU, the SVR, the FSB and the Presidential Administration Department, whose officers oversaw the Kremlin's interests in South Ossetia and Abkhazia and interaction with the self-proclaimed "DPR" and "LPR", participated in the development of the plan.
For the independent Eastern European country with a population of 9.3 million people, this means the destruction of its sovereignty and demotion to the position of a satellite of Moscow, the Dossier said.
The US notified Russia in advance of Biden's visit to Ukraine
The United States warned Moscow "hours" before President Joe Biden's "risky" surprise trip to Kyiv to avoid any possibility of conflict, said a senior White House adviser.
"We notified the Russians that President Biden would be traveling to Kyiv. We did so a few hours before his departure for the purpose of de-confliction," national security adviser Jake Sullivan, who accompanied the president on the trip, told reporters.
"Due to the sensitive nature of these communications, I will not go into how they responded or what the exact nature of our message was," he continued.
Biden left Andrews Air Force Base in the early hours of Sunday. However, White House officials said they could not yet reveal how Biden got to the Ukrainian capital.
Sullivan said the trip "required an operational and logistical security effort by professionals from across the U.S. government to take what was an inherently risky endeavor and achieve a manageable level of risk."
"Of course, there was still, and still is, risk in such an endeavor and President Biden felt it was important to make this trip."
More than 8,000 civilians have died since the beginning of the Russian invasion of Ukraine, according to a UN report
More than 8,000 civilians have died since Russia invaded Ukraine a year ago, Reuters reported, citing the UN human rights office.
The number of victims is much higher than the previous similar data, which was for 7,199 deaths. About 90 percent of civilians died in explosions caused by artillery rockets and shells, the report noted.
The UN human rights mission in Ukraine, which has dozens of monitors in the country, said it expected the real number of victims to be "significantly higher" than officially announced, as the process of confirming the data continues.
Khodorkovsky: Putin is counting on the ceasefire to lead to internal conflicts in Ukraine
"It is impossible to come up with such a truce scenario that would guarantee Ukraine that Putin will not start a war again after mobilizing the people in the occupied Ukrainian territories and after replenishing his military stocks. To secure Ukraine in the event of a recurrence, which I believe is inevitable, there is no better position than the one in which the Ukrainians are today. Currently, a large part of Ukrainian society - over 80% - does not support the idea of peace in order to protect its territories. This means that such a truce will lead to internal civil conflicts in Ukraine. I am 100% confident that Putin is hoping for exactly that."
This categorical opinion was expressed to BTV by former Russian oil entrepreneur, oligarch and tycoon Mikhail Khodorkovsky, who spent 10 years in a Russian prison on conviction for tax crimes. However, according to human rights activists, the verdict is politically motivated. In 2013, Khodorkovsky was pardoned following diplomatic efforts by former German Foreign Minister Hans-Dietrich Genscher. He has been living abroad since then. The former oligarch believes that today Vladimir Putin will not make the mistake of pardoning other Russian opposition figures again.
During the Munich Security Conference, Mikhail Khodorkovsky presented his book "How to Kill a Dragon" and took a position on the war in Ukraine with other representatives of the Russian opposition.
According to Khodorkovsky, Russian society will be ready for serious change only in the event of a military defeat of Putin's army. The reason is obvious - his special services are strong enough and ready to shoot, and Putin is ready to give the order to shoot and peaceful Russians cannot resist. However, in the event of a military defeat, the position of these special services, of the military, will be much different from the current one.
"Russian society is very diverse. Only a dictatorship unify. The opposition represents different groups of Russian society that have different interests. Today we are united by one thing - the desire to end this war. The desire to get rid of the threat of this war by changing regime. In this sense, we are all for one, and our message to Russian society is one - fellow citizens, if you want to live better or just live, this regime must be changed as soon as possible," Khodorkovsky stated.
He does not think that the future of Russia will be very democratic in the familiar sense. It will be different. On the territory of the federation there are cities such as Moscow, St. Petersburg or Yekaterinburg, which are "fully European cities in the spirit of their population". But in cities like Yoshkar-Ola, Ulan-Ude and many others, people may have a completely different idea of how they want to live.
"A unified template can only be imposed with a dictatorship, but a dictatorship does not build a democracy. I am convinced that in the future we will see a federal Russia, where each region will be very independent and will determine its own life. Strong local self-government, because that's what will balance the various regional authorities. As well as a sufficiently limited federal center, which is still necessary for such a huge country," said Khodorkovsky.
The EU plans to finance armaments for Ukraine through its own budget
Brussels is drawing up a proposal to use the EU budget to pre-finance arms and ammunition, in what would be an unprecedented foray into the defense industry designed to speed up arms deliveries to Ukraine, the Financial Times reports.
The European Commission is exploring how it could use the bloc's budget to provide upfront payments to arms manufacturers to boost production, sources familiar with the plans told a financial publication. The plans come in response to concerns over whether Europe can produce enough weaponry as quickly as Kyiv is using to defend itself against Russian aggression.
A final proposal from the Commission is due to be circulated among the 27 EU members before a meeting of defense ministers on March 7, one of the sources added.
"We need a new injection to drive the defense industry," said one EU official, who declined to be named because the plans are not public. "The reality has gone beyond the current systems," he added.
The plans are being drawn up with the assistance of Commission lawyers, given that EU treaties prohibit the use of bloc funds for military purposes. Those plans could be tweaked before they are made public given the legal complexities, the Financial Times sources said.
The proposal is similar to the EC's initiative to provide Covid-19 vaccines during the coronavirus pandemic. Brussels then provided advance payments to pharmaceutical companies to ensure that member states would have sufficient supplies of vaccines.
EC President Ursula von der Leyen said last weekend that the advance purchase agreements "will enable the defense industry to invest in production lines to be faster and to increase the output they can deliver".
Asked about the draft proposal, the Commission said the bloc was "considering options for the joint provision of standardized defense products such as ammunition".
Ensuring sufficient supplies of ammunition to Ukraine has become a burning issue in recent weeks as senior officials, including NATO Secretary General Jens Stoltenberg, warned that the European defense industry was "under strain" trying to keep up with demand.
The Financial Times says that every day Russia fires more than 20,000 artillery shells into Ukraine - as many European military factories produce in a month. Ukraine launches about a quarter of this number.
In response, EU capitals are lending their support to proposals for joint contracts to streamline defense procurement and encourage manufacturers to expand production, such as Estonia's proposal to other member states to combine on a billion contract to buy 1 million artillery shells.
The Commission's proposal, which was outlined to EU foreign ministers on Monday, would significantly extend that effort, using the bloc's seven-year budget of €1 trillion. euro to guarantee these orders.
"The EU has multiple ways to proceed with such a project. Some kind of long-term compensation mechanism has to be found...And the EU budget is the key," a second unnamed European official told the financial publication.
Work on the EC's pre-payment proposal comes almost a year after the so-called 5.5 billion euro European Peace Fund, which is used to reimburse member states for the weapons they provide to Kyiv.
But officials told the Financial Times that the urgent need to spur the defense industry to expand production meant the funds would be required up front rather than provided afterwards.
"Ukraine has guns, but they lack ammunition," Josep Borrell said on Monday. "We are doing everything we can," he said in reference to the existing refund scheme and new ways, including the Commission "doing joint purchasing" (similar to Covid vaccines).
34 countries have declared against the participation of athletes from Russia and Belarus at the Olympics in Paris
The host France is among the 34 countries that called on the International Olympic Committee (IOC) to ban the participation of athletes from Russia and Belarus at the 2024 Paris Olympics, DPA reported.
The USA, Great Britain and Australia are also among those who have declared against the participation of Russian and Belarusian athletes.
In a joint statement yesterday, these countries argued that "Russia's deliberate unprovoked and unjustified war (against Ukraine) was facilitated by the Belarusian government."
Russian Sports Minister Oleg Matytsin said earlier this month that it was "absolutely unacceptable" for foreign governments to try to influence the IOC.
The IOC itself confirmed last month that it intended to support sanctions against Russian and Belarusian officials ahead of the upcoming Olympics in the French capital, but added that it would consider the possibility of athletes from both countries competing under a neutral flag.
In a statement today, the 34 nations opposed to Russia and Belarus participating in the Games welcomed the IOC's "adherence to existing sanctions" but said the proposal to participate under a neutral flag raised "many questions and concerns".
The US suspects China of preparing military aid to Russia
The US suspects that China is preparing to provide military aid to Russia, world media report. Washington warns that it would see this as crossing a "red line" with correspondingly serious consequences.
On Sunday, US Secretary of State Antony Blinken said Beijing was now "considering providing lethal support" to Moscow, ranging "from munitions to the weapons themselves," AFP reported.
"The United States, not China, has been continuously supplying weapons to the battlefield," Chinese Foreign Ministry spokesman Wang Wenbin said on Monday when asked about the US claims.
"We call on the United States to seriously consider its own actions and do more to ease the situation, promote peace and dialogue, and stop shifting blame and spreading false information," Wang told a regular briefing.
Moscow's offensive in Ukraine is a sensitive issue for Beijing, which seeks to position itself as neutral while offering diplomatic support to its strategic ally Russia, AFP noted.
"It is clear to the international community who is calling for dialogue and fighting for peace and who is fueling the fire and encouraging opposition," Wang added, reiterating the call to support China's proposal to end the war.
China said on Saturday it would publish this week a proposal to find a "political solution" to the Ukraine crisis, with Beijing's top diplomat telling a conference that the country was "on the side of dialogue".
Wang Yi, the Chinese Communist Party's top foreign policy official, told the Munich Security Conference on Sunday that his country was against attacks on nuclear power plants, against the use of biochemical weapons and was ready to work with "all countries ".
Later on Monday, EU foreign policy and security chief Josep Borrell warned China against providing weapons to Russia for its war against Ukraine.
Borrell said he told Wang Yi that "for us, that would be a red line in our relationship. He told me they wouldn't, that they didn't plan to. But we will remain vigilant."
A visit to Moscow and a warning from Kyiv
Russian President Vladimir Putin may meet with Wang Yi during his visit to Moscow on Monday, Kremlin spokesman Dmitry Peskov said, quoted by TASS.
Peskov said that "Russian-Chinese relations have a multilateral, allied character."
"The agenda is clear and very broad, so there is a lot to talk about," he noted.
Wang, who heads the Office of the Foreign Affairs Commission of the Communist Party of China Central Committee, arrived in Moscow today for talks on a possible peace deal to settle the conflict in Ukraine, Reuters said, citing a diplomatic source.
Ukrainian President Volodymyr Zelensky warned in an interview published today that China should not support Russia in its war against Ukraine and said that if Beijing did so, it would lead to a world war, Reuters reported, quoted by BTA.
Zelensky's comments came after China said the US was in no position to make demands.
"It is important for us that China does not support the Russian Federation in this war. In fact, I would like it to be on our side," Zelensky told the German daily Welt. "However, at the moment, I don't think that is possible," said the Ukrainian leader.
"However, I see an opportunity for China to make a pragmatic assessment of what is happening here," adds Zelensky. "Because if China allies with Russia, there will be a world war, and I think China realizes that."
An attempt to maneuver
The Associated Press recalls today that China refused to condemn and even criticize Russia's invasion of Ukraine, and even call it by its real name. At the same time, Beijing says that the sovereignty and territorial integrity of all countries must be protected.
China claims that Russia was provoked to take action against Ukraine because of NATO's eastward expansion, the agency notes. Just weeks before the invasion on February 24, 2022, Chinese President Xi Jinping hosted Russian President Vladimir Putin in Beijing for the opening of the Winter Olympics, at which time the two countries issued a joint statement pledging their commitment to "no-holds-barred" friendship. . Since then, China has ignored Western criticism and reaffirmed that promise.
But China has not yet confirmed the visit that Putin said he expected from Xi this spring.
China is "trying to play it both ways," Blinken said Sunday on NBC television. "Publicly they present themselves as a country seeking peace in Ukraine, but privately, as I said, we have already seen in recent months the provision of non-lethal aid that goes directly to aid and abet Russia's war effort."
Blinken, at the Munich Security Conference, said the US had long been concerned that China would provide weapons to Russia and that "we have information that worries us that they are considering providing lethal support to Russia in the war against Ukraine."
A day earlier, Blinken had spoken to Wang Yi in a meeting that gave no sign of easing tensions or progress on the Ukraine issue, the AP recalled.
"It was important for me to make it very clear to Wang Yi that this would be a serious problem," Blinken said, referring to potential Chinese military support for Russia.
US Ambassador to the UN Linda Thomas-Greenfield also expressed concern about any Chinese efforts to arm Russia, saying "that would be a red line".
Russian and Chinese forces have been conducting joint military exercises since Russia invaded Ukraine a year ago, most recently sending ships to participate in maneuvers with the South African navy in a key shipping corridor off its east coast.
There will be "real consequences ... if China provides lethal aid to Russia" or helps Moscow evade sanctions in a "systematic way", Blinken said on Monday in Ankara. He did not specify what measures Washington would take in response to Chinese military support for Russia, but said other countries would join the US in similar actions.
Efforts to stem the strain in US-China relations, which are at their lowest point in decades, have so far failed. The US has sought to limit Chinese access to the latest microprocessors and manufacturing equipment and continues to dispute Chinese territorial claims in the South China Sea.
For China, the most sensitive issue is US support for Taiwan, the self-governing island democracy that Beijing considers its territory and threatens to subjugate it with military force if necessary. Taiwan is a major buyer of US arms and has increasingly welcomed prominent US officials, angering Beijing.
Meanwhile, members of the US Congress have called for a ban on the Chinese social network Tik Tok and other Chinese media platforms, as well as increased sanctions against Chinese companies backed by the Communist Party, which exercises complete control over the Chinese economy and suppresses independent media and opposition voices.
Follow Novinite.com on Twitter and Facebook
Write to us at editors@novinite.com
Информирайте се на Български - Novinite.bg
We need your support so Novinite.com can keep delivering news and information about Bulgaria! Thank you!
Ukraine
» Be a reporter: Write and send your article