Survey: The Bulgarian President Loses Rating, Mistrust exceeds Trust
Politics
|
February 14, 2023, Tuesday // 12:43
Send to Kindle
President Rumen Radev
Negative evaluations prevail at the expense of positive ones. This is the trend in public attitudes towards the main political forces in Bulgaria, which will once again appear in the early parliamentary elections on April 2.
The data are from a national survey, financed and implemented jointly by bTV and "Market Links", conducted among 1067 adults between January 14 and 22 using the methods of direct personal interview and online survey.
In fact, the balance of negative-positive evaluations at the party "Bulgarian Rise" looks best. But Stefan Yanev's formation, which has established itself with its public image of always agreeing, is also with many percentages of people who are not familiar with it and do not know it.
61 percent are negative assessments for GERB. 21 percent like them. For "We Continue the Change", the ratio is 64 to 18 percent, i.e. those who like them are 3 percent less than those who approve of GERB, and those who dislike WCC are again 3 percent more than critics of Boyko Borissov's party. "Democratic Bulgaria" collects 59 percent disapproval and 16 percent approval.
The percentage of people who do not approve of DPS and "There Is Such a People" is the largest.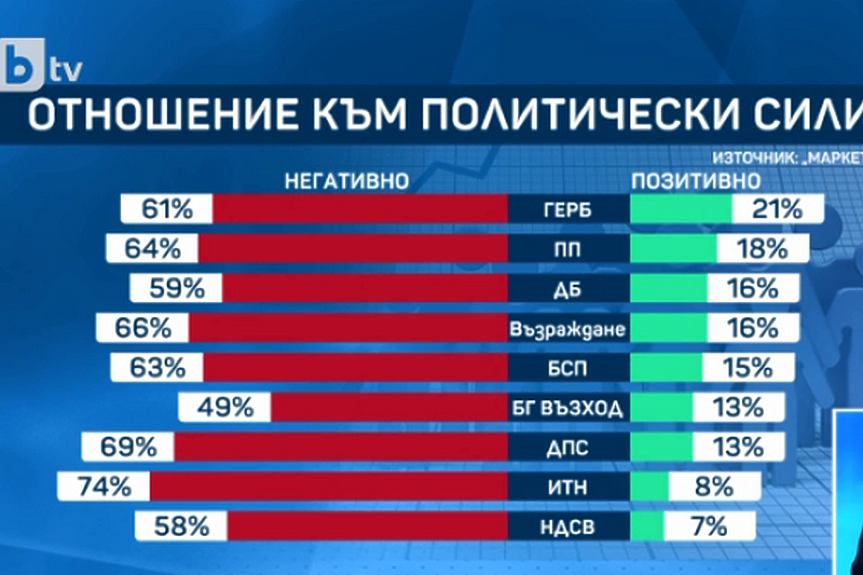 Although everyone is losing confidence, GERB, "We continue the change" and "Democratic Bulgaria" are the formations that gather the most positive attitude, the agency notes.
The biggest negative attitudes are towards "There Is Such a People", DPS and "Vazrazhdane".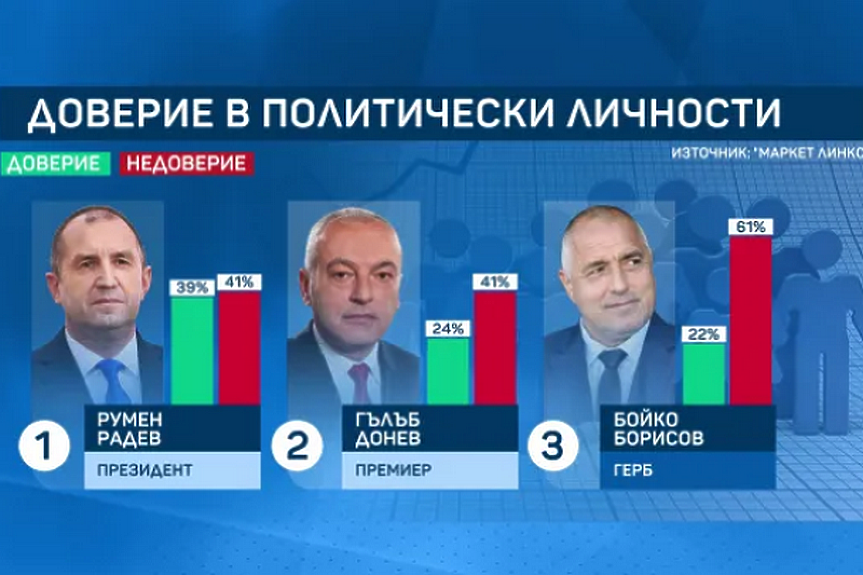 Among political figures, the president is the most approved. However, the trend of losing trust continues with him and, unlike previous years, his rating is not positive - that is, distrust is now greater than trust.
The second place goes to acting Prime Minister Galab Donev, according to the agency's data. Next is Boyko Borissov. The highest level of distrust is towards Kornelia Ninova, Slavi Trifonov and Mustafa Karadayi.
Follow Novinite.com on Twitter and Facebook
Write to us at editors@novinite.com
Информирайте се на Български - Novinite.bg
/ClubZ
We need your support so Novinite.com can keep delivering news and information about Bulgaria! Thank you!
Politics
» Be a reporter: Write and send your article