Bulgaria: Pro-Russian Parties attended an event at the Russian Embassy in Sofia
Politics
|
June 9, 2023, Friday // 10:23
Send to Kindle
Russian Ambassador to Bulgaria Eleonora Mitrofanova
A solemn reception on the occasion of the Day of Russia took place yesterday at the Russian Embassy in Sofia, TASS reported, referring to its correspondent on the spot.
The event was attended by leaders of the "Vazrazhdane" (Revival) political party, as well as Bulgarian socialists, veterans, representatives of many Bulgarian public organizations, the Bulgarian Orthodox Church, scientists and cultural figures.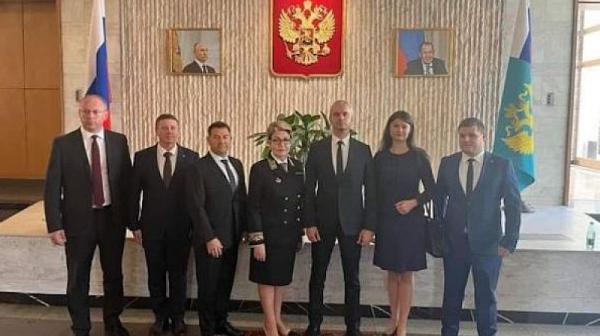 The Ambassador of Russia in Sofia, Eleonora Mitrofanova, addressed the guests with greetings for the holiday and noted that nowadays everyone lives in an era of cardinal changes. "All of us live in a complicated time, in a period of global, cardinal changes forming the coordinate system of the new multipolar order of the world. In these conditions, Russia, which is an active subject of the current processes, seeks not only to ensure compliance with its interests, but also to formulate principles of international relations understandable for most countries, based on mutual respect and equality, excluding dominance and hegemony," stressed Mitrofanova.
The Russian ambassador noted that a number of countries that have assumed the function of "gendarmes of the planet" are actively opposing Russia, but they will not achieve the results they are aiming for, although they will create certain difficulties. "I want to assure you that despite the efforts of the so-called collective West, Russia will continue its consistent progress," stressed Mitrofanova.
"Regardless of the fact that the views of Bulgarian citizens on the current agenda are far from uniform, official Sofia confidently adheres to the anti-Russian narrative. Systematic involvement of the country in the conflict in Ukraine - be it by supplying the Kyiv regime with ammunition or, for example, by the eventual sending a national contingent to the zone of military operations will undoubtedly have negative consequences for the bilateral dialogue," Mitrofanova added.
The ambassador of Russia to Bulgaria emphasized the importance of public diplomacy in the development of bilateral relations and expressed confidence that the current "state of affairs will improve with time" and that bilateral relations will receive their new development, BTA reported.
Follow Novinite.com on Twitter and Facebook
Write to us at editors@novinite.com
Информирайте се на Български - Novinite.bg
We need your support so Novinite.com can keep delivering news and information about Bulgaria! Thank you!
Politics
» Be a reporter: Write and send your article