Bulgaria's President: For us both the Russian and the Ukrainian People are Equally Close
Politics
|
May 26, 2023, Friday // 09:24
Send to Kindle
Bulgarian President Rumen Radev
"As the president of Croatia also said - each EU member state has its own historical path. And this is the richness of the EU - that we have different historical roots, we have different national ideas, we have a different path until we reach the EU. The fact is that the Bulgarian people are grateful for 150,000 Russian soldiers who died in the Russo-Turkish War of Liberation a century and a half ago. This is indeed a contribution to our people that we cherish and will never forget. But this has nothing to do with Russia's current aggression against Ukraine."
This was stated by President Rumen Radev, who welcomed his Croatian colleague Zoran Milanovic yesterday at "Dondukov" 2 street. The head of state of Croatia is on an official visit to our country at the invitation of the Bulgarian president.
"Bulgaria has a categorically clear position. We, therefore, insist on finding a diplomatic and peaceful solution to this conflict as soon as possible, because for us both the Russian and the Ukrainian people are equally close. We have equally close historical ties. When I say 150,000 dead Russian soldiers, it also means Ukrainian soldiers, all nationalities of the then Russian Empire", Radev said.
"I cannot accept that EU unity on all issues is any value"
According to Croatian President Zoran Milanovic, at the moment "it is a question of a war that is not in the EU, which has come about due to a number of circumstances and for which Russia is blamed".
"When someone expresses minimal skepticism towards the dogma and when he is not 'for' war to the point of total extermination, he comes across as supporting Russia. I have to take a position that is very similar to the position of Mr. Radev. The unity of the EU is not a dogma and is not something that is taken for granted. There are no people with clear democratic mandates who have the right to speak on behalf of the EU, apart from the main ones, if we agree on them. I cannot accept that EU unity on all issues is any value. We are national states, we are different, some are more liberal, others are more conservative", Zoran Milanovic also stated.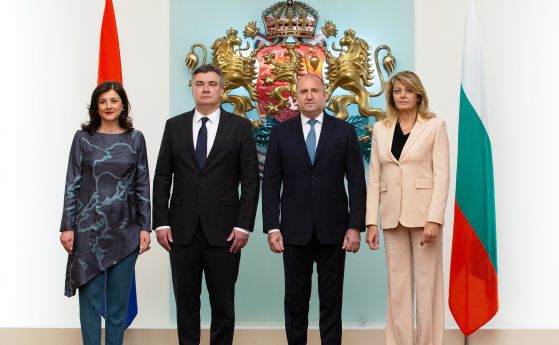 The Croatian President and his wife Sanja Music Milanovic were welcomed with an official ceremony by Rumen Radev and Desislava Radeva in front of the building of the presidential institution. The two heads of state held a "four eyes" meeting and led the plenary talks between the official delegations of the two countries.
The absurd statements of the Croatian president
In Croatia itself, Zoran Milanovic is known for his scandalous statements. For example, a year ago he threatened to veto Finland's NATO membership until the problems...of the Croats in Bosnia and Herzegovina were resolved. Here is the logic of the Croatian president, explained in his own words: "If Cyprus can impose a veto in the EU on the sanctions against Belarusian President Alexander Lukashenko until the problem with Turkey regarding gas exploitation is resolved, why should Croatia not be able to do it."; "You want in NATO? No problem, we have enough time. For Finland, this is a vitally important issue, and for us it is vitally important whether the Croats in Herzegovina will elect a Croatian representative. Well, now people who would not otherwise hear it will hear it."
And in January 2022, Zoran Milanovic announced: "Croatia has nothing to do with the conflict in Ukraine. Croatia will not send troops in case of escalation. On the contrary, it will withdraw all its military, down to the last Croatian soldier." Croatian Prime Minister Andrej Plenkovic then had to apologize to Ukraine for the president's statement and explain that there are no Croatian soldiers in Ukraine.
Follow Novinite.com on Twitter and Facebook
Write to us at editors@novinite.com
Информирайте се на Български - Novinite.bg
We need your support so Novinite.com can keep delivering news and information about Bulgaria! Thank you!
Politics
» Be a reporter: Write and send your article