Stabilization of Unemployment in the EU in March at the level of 6%, Decrease in Bulgaria to 3.7%
Send to Kindle
Eurozone unemployment fell in March to a record low of 6.5% from 6.6% in February and below the unemployment rate of 6.8% a year earlier (in March 2022). This is the lowest unemployment rate in the eurozone since 1998 - just before the euro was launched in January 1999, according to data from the European official statistics agency Eurostat.
Within the EU, unemployment in March stabilized for the third month in a row at the level of 6% - below the level of 6.2% just a year ago.
The highest unemployment rate in March was reported in Spain (12.8%), followed by Greece (10.9%) and Italy (7.8%), while the lowest unemployment was in the Czech Republic (2.6%) ), Germany (2.8%) and Poland (also 2.8%).
For Bulgaria, Eurostat data show that unemployment in March 2023 dropped to 3.7% from 3.8% a month earlier and below the level of 4.5% exactly a year ago (in March 2022).
According to European statistics, a total of 12.960 million Europeans, of which 11.010 million from the Eurozone, were unemployed in March, and compared to February 2023, a decrease of the unemployed in the EU by 155 thousand and by 121 thousand within the Eurozone was recorded.
According to Eurostat data, 123,000 people were unemployed in Bulgaria in March 2023, compared to 126,000 in February, marking a decrease of 26,000 compared to March 2022, when 149,000 Bulgarians were unemployed.
Graph of unemployment rates in the EU and the Eurozone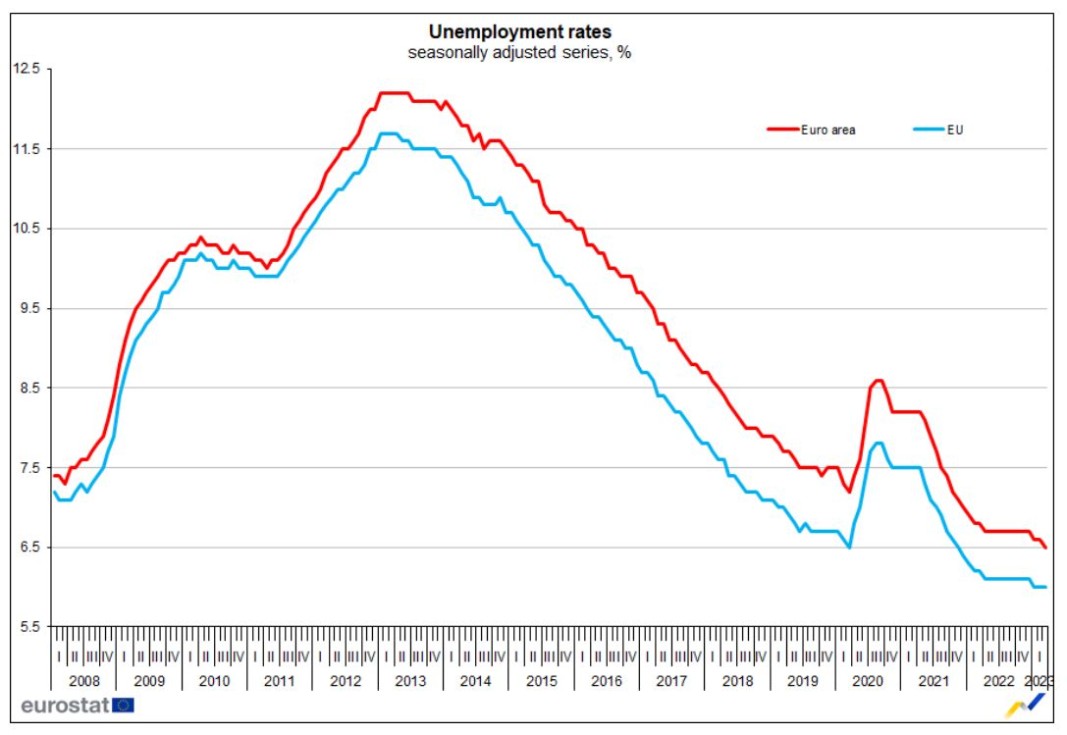 Follow Novinite.com on Twitter and Facebook
Write to us at editors@novinite.com
Информирайте се на Български - Novinite.bg
/Bulgarian National Radio
We need your support so Novinite.com can keep delivering news and information about Bulgaria! Thank you!
EU
» Be a reporter: Write and send your article