Three Earthquakes in 30 minutes in Bulgaria
Send to Kindle
@Pixabay
The European Mediterranean Seismological Center (EMSC) registered three earthquakes in Bulgaria within 30 minutes.
The first, at 10:15 am, was the strongest - with a magnitude of 3.5 on the Richter scale. Its epicenter is 13 km north-northeast of Dimitrovgrad and 30 km from Stara Zagora. Its depth is 2 km.
"On the second floor in Dimitrovgrad, a slight shaking was felt first, and then shaking once, twice," wrote to EMSC a resident of the city who felt it.
"It felt light, twice the pulsations!" - testified another.
The second tremor occurred minutes later, at 10:26 a.m., in the same area. It had a magnitude of 2.5 on the Richter scale and a depth of 2 km. It was registered 13 km northwest of Harmanli and 47 km south-southeast of Stara Zagora.
The third earthquake today is from 10:40 a.m., with a magnitude of 2.2, a depth of 17 km and an epicenter 10 km northeast of Dimitrovgrad and 37 km south-southeast of Stara Zagora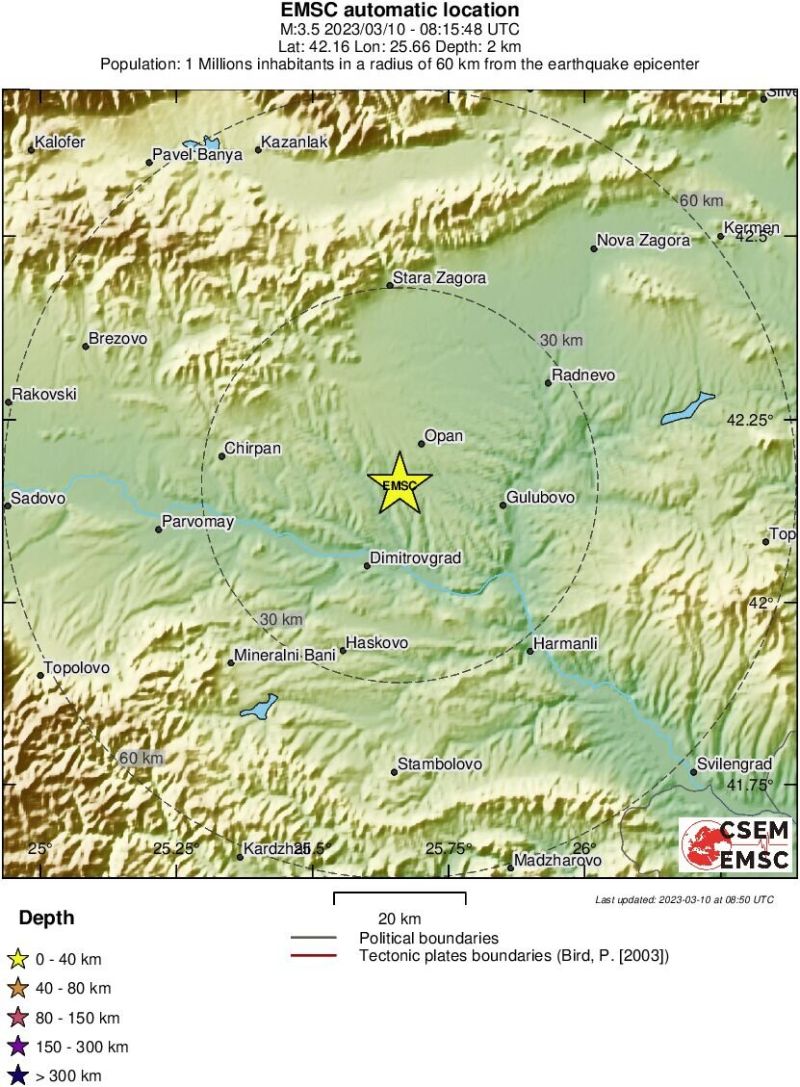 Follow Novinite.com on Twitter and Facebook
Write to us at editors@novinite.com
Информирайте се на Български - Novinite.bg
/OFFNews
We need your support so Novinite.com can keep delivering news and information about Bulgaria! Thank you!
Incidents
» Be a reporter: Write and send your article