Thousands of Dead after Earthquakes in Turkey and Syria (OVERVIEW)
World
|
February 6, 2023, Monday // 18:14
Send to Kindle
@Twitter
Two strong earthquakes measuring 7.8 and 7.5 on the Richter scale shook southeastern Turkey.
The first quake, measuring 7.8 on the Richter scale, struck at 4:17 a.m. with an epicenter near the city of Gaziantep. It was felt as far as Cyprus, Lebanon and Egypt. More than 50 aftershocks followed.
At 13:24 p.m. local time, a second strong earthquake measuring 7.5 on the Richter scale was registered in Central Turkey. The epicenter is near the town of Ekinozu.
The dead as a result of the two earthquakes are over 2,300, with the information changing with every passing minute. To date, over 5,300 have been injured, and over 2,500 survivors have been rescued from the ruins.
A man with Bulgarian and Turkish citizenship living in the town of Iskenderun is missing after the building he lived in was destroyed during the powerful earthquake.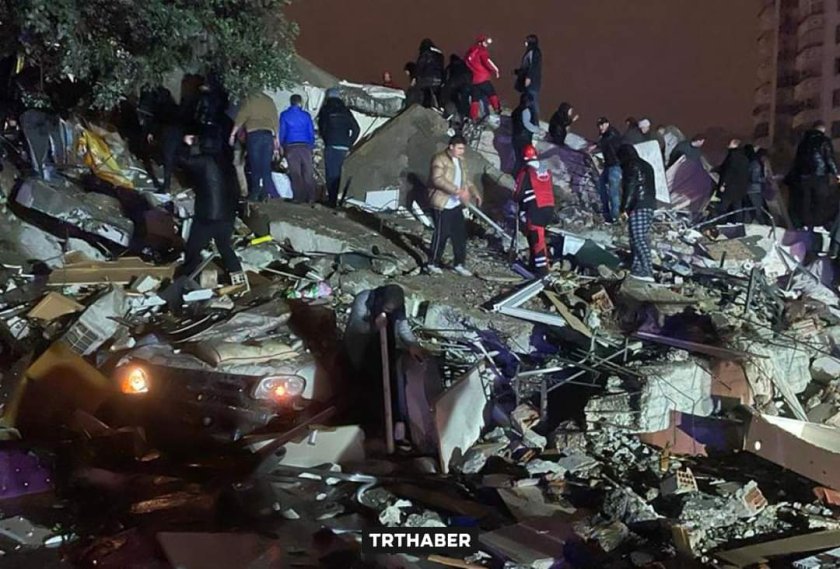 Turkey has declared the highest level of alert - fourth. There is serious destruction, entire buildings have collapsed. This is the strongest earthquake in the area for the last 100 years.
The epicenter of the first 7.8-magnitude quake was 10 kilometers from the city of Gaziantep to the border with Syria. Dozens of buildings were razed to the ground. There are fears that the death toll will rise sharply in the coming hours.
This drone footage shows damage in Turkey after a 7.8-magnitude earthquake.

Rescue workers and residents have been working through tangles of metal and giant piles of debris in their search for survivors.

More: https://t.co/5dUCg7v5mB pic.twitter.com/GMAXIoFBsi

— Sky News (@SkyNews) February 6, 2023
According to data from the Ministry of Foreign Affairs and the Embassy of Bulgaria in Ankara, there are no reports of injured or dead Bulgarians. President Rumen Radev sent a letter of condolence to his Turkish counterpart Recep Erdogan.
Our country sent rescue teams and equipment with two "Spartan" planes.
So far, 13 EU countries have offered aid to Turkey. Due to the devastating earthquake, the EU Civil Protection Mechanism was activated. So far, teams from Bulgaria, Croatia, the Czech Republic, France, Greece, Hungary, Malta, the Netherlands, Poland, and Romania have been mobilized. Italy, Spain and Slovakia have also offered rescue teams to Turkey.
The EU is also ready to support those affected in Syria, which has also reported casualties, through its humanitarian aid programs.
More horrifying footage from the Turkey and Syria.
Buildings are collapsing in real time..

Meanwhile, the NYT reports that over 1,600 people have been killed. That number is likely to keep on rising. pic.twitter.com/05WJ9BYssP

— DewastacjaTicTok (@krus_vs_insta) February 6, 2023
CHRONOLOGY
At 4:17 a.m., a deafening rumble shook the southeastern town of Siverek. Street lights go out, car alarms screech. 50 aftershocks followed. Buildings are collapsing before people's eyes in Adyaman, Malatya and Diyarbakır. In Malatya, rescuers talk to those buried under the stone blocks. Rescue teams arrive immediately on the scene, people search with their bare hands for survivors under the ruins.
"The epicenter of the earthquake is near the city of Pazardzhik in the province of Kahramanmaras. The provinces of Hatay, Gaziantep, Osmaniye, Adyaman, Malatya, Şanlıurfa, Adana, Diyarbakır and Kilis are also affected. The earthquake is destructive. All the governors are currently in place and performing their duties. Gendarmerie, police, Turkish military, rescue teams, the Turkish Red Crescent have been sent to all affected areas in the country," Turkish Interior Minister Süleyman Soylu announced.
At 13:24 p.m. local time, a second strong earthquake of 7.5 on the Richter scale was registered in Central Turkey with an epicenter near the city of Ekinozu.
Turkish President Recep Erdogan called for unity on Twitter.
In Syria, there are destroyed buildings in the provinces of Aleppo, Latakia, Hama and Tartus, where Russia has a naval base. Terrified Syrians fled their homes and cars lined the streets. The heavily damaged buildings from the war in Syria collapsed. Rescue teams in the town of Azaz rejoiced after finding a little girl under the rubble.
Turkish energy company Botas reported that there was no damage to pipelines from the earthquakes in Turkey. Gas supply has been shut off in some areas as a precautionary measure. The White House expressed condolences for those who died in Turkey and Syria. President Joe Biden ordered an assessment of financial aid options for the quake-hit areas. The authorities in Israel have also announced that they are ready to provide assistance to Turkey.
The Turkish side has requested international assistance from the member states of the European Union through its emergency and civil protection agency AFAD. The request contains a request for support in ongoing rescue operations.
Our compatriots in Istanbul say that earthquakes are also expected there and people are prepared for evacuation.
Keep turkey in your prayers???? today after a second, very powerful earthquake (7.5) has hit central Turkey, according to EMSC.

The anguish and suffering in the area is immense..???????? pic.twitter.com/XfSGIXJVz9

— BIG DAVE (@2bz4thot) February 6, 2023
A famous 13th-century mosque partially collapsed in Malta province, where a 14-story building with 28 apartments that housed 92 people also collapsed. In other cities, social media posts showed a 2,200-year-old hilltop castle built by Roman troops in Gaziantep lying in ruins, its walls partially reduced to rubble.
"We hear voices here - and there too," a rescuer was heard saying on NTV television outside a collapsed building in the city of Diyarbakır. "There could be 200 people under the rubble."
Follow Novinite.com on Twitter and Facebook
Write to us at editors@novinite.com
Информирайте се на Български - Novinite.bg
/BNT, BGNES
We need your support so Novinite.com can keep delivering news and information about Bulgaria! Thank you!
World
» Be a reporter: Write and send your article