February in Bulgaria: From -12 to +20 Degrees
Send to Kindle
@Pixabay
The increase in the length of the day in February leads to an increase in sunshine and a decrease in gloomy days. Usually, the snow cover in the plains is short-lived, and the precipitation is little. Characteristic of the month is the great dynamics of the atmosphere, which is the reason for sudden changes in the weather. Sometimes there are very intense intrusions of arctic air, blizzards and sharp cold. Under such conditions, it happened that the sea along the Black Sea froze. In other cases, intrusions from the Mediterranean have seen anomalous warmings, harbingers of spring.
This year, the average monthly temperature is expected to be around the norm, which in northern Bulgaria and the high fields is from 1°C to 3°C, in southern Bulgaria and along the Black Sea - between 3°C and 6°C, and in the mountains - between minus 8°C and minus 4°C. The lowest temperatures during the month will mostly be between minus 12°C and minus 7°C, and the highest - between 15°C and 20°C.
The monthly amount of precipitation will be around and above the norm, which for most of the country is between 30 and 50 mm, in the mountains and the Rila-Rhodope region - between 60 and 80 mm.
During the first ten days, in most of the country, the temperatures will be close to and slightly lower than usual for the period. Cloudiness will often be significant and there will be precipitation in places: snow in the northwestern half, and rain turning to snow in the southeastern half.
During the second ten days, temperatures will relatively rise. There is a chance of both rain and snow between the 14th and 17th, but the chance of snow cover is low.
During the last week of the month, temperatures will be close to normal. There is a chance of precipitation around the 21st, 25th and at the end of the month, when atmospheric disturbances will pass through the country and there will be a relative drop in temperatures.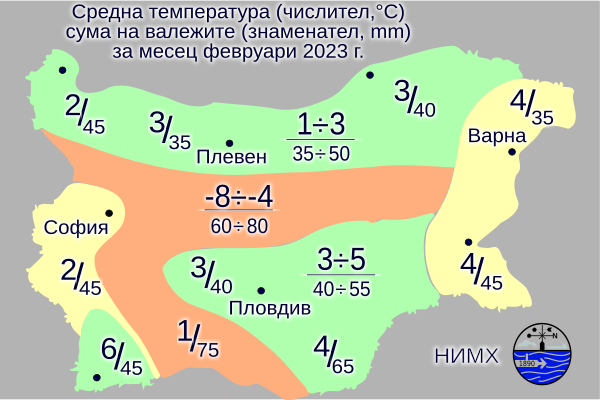 Astronomical reference:
At the beginning of the month, the Sun rises at 7:42 a.m. and sets at 5:38 p.m. The length of the day is 9 hours and 56 minutes. At the end of the month, the Sun rises at 7:05 a.m. and it sets at 18:13 p.m. The length of the day is 11 hours and 7 minutes. The phases of the Moon during the month are: 5.02 - full moon, 13.02 - last quarter 20.02 - new moon, 27.02 - first quarter.
Follow Novinite.com on Twitter and Facebook
Write to us at editors@novinite.com
Информирайте се на Български - Novinite.bg
/Nova
We need your support so Novinite.com can keep delivering news and information about Bulgaria! Thank you!
Environment
» Be a reporter: Write and send your article