Gas Prices in Europe Fall below 70 Euros/MWh for the First time since the Beginning of Russia's Invasion of Ukraine
Send to Kindle
@Pixabay
Natural gas in Europe continues to fall in price at the start of the new year, falling below €70 per megawatt-hour (MWh) for the first time since the beginning of the military invasion of Ukraine, which Russia launched on February 24, 2022.
In early trade on Wednesday, Dutch gas hub TTF February futures fell another 7% to €67/MWh, hitting the lowest price level since February 16 last year.
Thus, gas in Europe is now trading nearly 80% below its record levels of just under €350 per megawatt hour reached at the end of August last year, as warmer-than-expected temperatures on the old continent eased concerns about shortages and the need for blue fuel. Forecasts point to above-seasonal temperatures for most of Europe over the next two weeks.
Gas TTF futures chart (in EUR/MWh)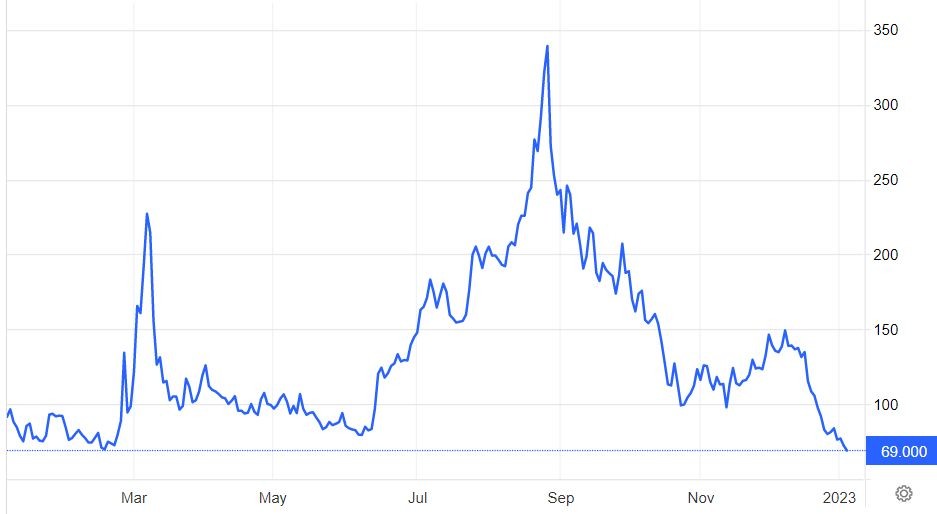 At the same time, record LNG imports, fuller-than-normal gas storage in the EU and increased wind power production in France and Germany in recent days have also helped to keep natural gas prices down.
Gas storage facilities across Europe were 83.52% full as of January 2, well above the five-year seasonal fill rate at this time of year of around 70%, according to the latest data from Gas Infrastructure Europe (GIE). Germany's gas storages are 90.64% full, after unusually warm weather around the Christmas and New Year holidays reduced the consumption of blue fuel and even allowed additional gas injection into the country's storages.
Bulgaria's Chiren gas storage facility was 82.19% full as of January 2, which is also significantly above the previous five-year average for this period, according to GIE data.
Meanwhile, Russian energy giant Gazprom said it would deliver 37.8 million cubic meters of natural gas to Europe via Ukraine on Wednesday, down 10.4 percent from 42.2 million cubic meters on Tuesday.
In recent months, Gazprom delivered more than 40 million cubic meters of gas per day via this route. The last time it delivered less than 40 mcm was on July 11, 2022, when it delivered 39.4 mcm.
This reduced gas supply could limit the cheapening of the blue fuel in Europe.
Follow Novinite.com on Twitter and Facebook
Write to us at editors@novinite.com
Информирайте се на Български - Novinite.bg
/BNR
We need your support so Novinite.com can keep delivering news and information about Bulgaria! Thank you!
Energy
» Be a reporter: Write and send your article