Bulgaria: WCC-DB, GERB and DPS Submitted the Draft-Project for the Constitution
Politics
|
July 28, 2023, Friday // 17:20
Send to Kindle
@BGNES
It is now official - "We Continuing the Change-Democratic Bulgaria", GERB and DPS submitted the project for amendments to the Constitution to the secretariat of the National Assembly.
Although only 60 deputies' signatures were required for this purpose, all 166 people's representatives of the three formations signed it (There are 167 in total, but today the WCC-DB deputy Petar Petrov's resignation from his seat in the National Assembly was voted on).
The project is general, although it is based mainly on the one developed by the "Coalition of Change" and presented last Sunday. It also reflects the ideas of GERB and the Movement for Rights and Freedoms (DPS).
166 votes so far mean that the project starts on the so-called slow track 180 votes are needed to pass amendments in just a few months. For now, the Bulgarian Socialist Party (BSP) and "There Is such a People" (TISP) refuse to talk about support. From "Vazrazhdane" it is not even wanted.
Work on it will begin immediately after the one-month parliamentary vacation.
The project was briefly presented again today only by representatives of WCC-DB - the co-chairmen of the two formations Hristo Ivanov, Atanas Atanasov and Kiril Petkov, Nadezhda Yordanova and Nikola Minchev.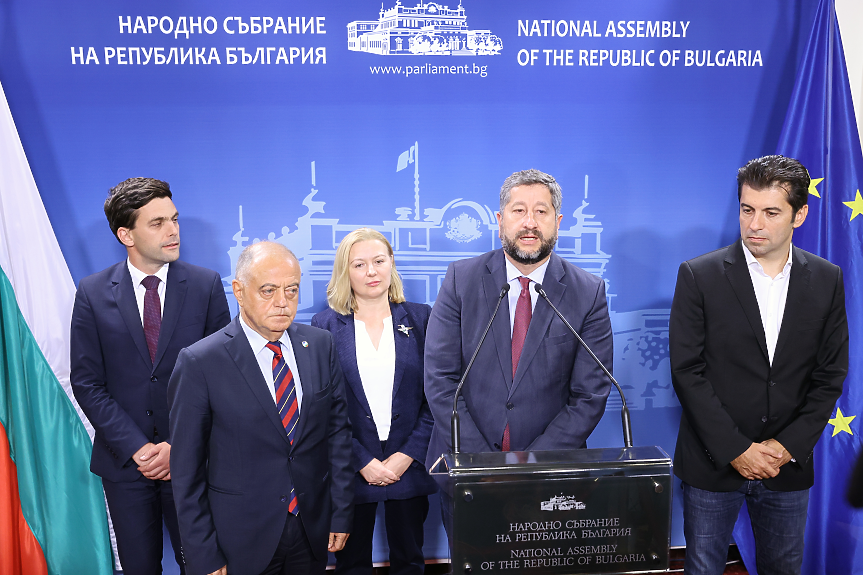 The current High Judicial Council is to be divided into two independent councils - the judicial one with a predominance of the professional quota, and the prosecutor's - with a predominance of the parliamentary quota, seriously curtailing the powers of the chief prosecutor.
The caretaker cabinet will remain as a format, but in the "Greek variant". The President will only issue an appointment decree, but the Prime Minister can only be named from among the Chairman of the National Assembly, the Chairman of the Constitutional Court or the Governor of the Bulgarian National Bank. The Prime Minister will select his/her team.
Other changes include: the individual constitutional complaint, May 24 to be declared a national holiday, etc.
Follow Novinite.com on Twitter and Facebook
Write to us at editors@novinite.com
Информирайте се на Български - Novinite.bg
We need your support so Novinite.com can keep delivering news and information about Bulgaria! Thank you!
Politics
» Be a reporter: Write and send your article