Bulgaria: Protest of "Vazrazhdane" and TISP against the New Cabinet
Politics
|
June 6, 2023, Tuesday // 14:45
Send to Kindle
@Ruza Raicheva, OFFNews
An hour before the vote for a new cabinet, hundreds of "Vazrazhdane" supporters gathered in the square in front of the National Assembly building.
Minutes before the vote for the cabinet, the entire parliamentary group of "There Is Such a People" (TISP) led by Toshko Yordanov, as well as Maya Manolova from "Levitsata" gathered on the square.
There were expectations that today there would be a protest by the Movement for Rights and Freedoms (DPS), but there was none, OFFNews reported.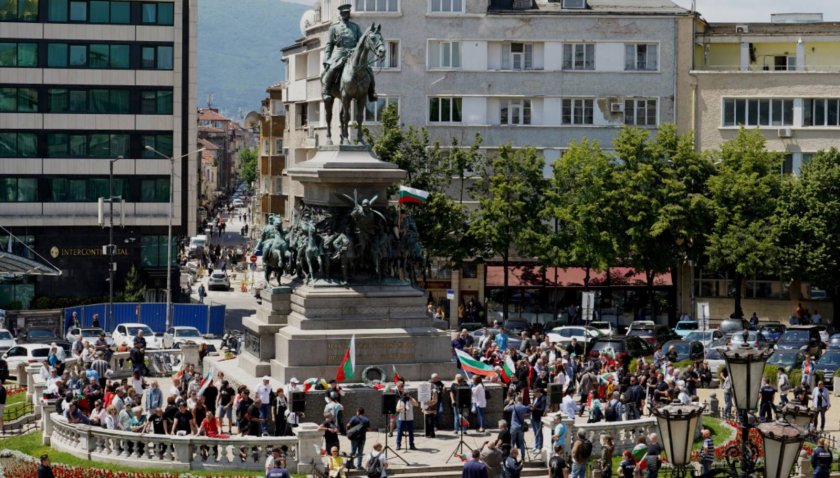 Delyan Peevski, Yordan Tsonev and Hamid Hamid are in the parliament building, but they did not go outside to protest. The mayor of Kardzhali from DPS Hasan Aziz was also seen in the parliament.
Among those present at the protests in front of the parliament are also representatives of "There Is Such a People". The entire TISP parliamentary group protested against the government.
So far, only one MP from Vazrazhdane, Stoyan Taslakov, has joined the protest.
When President Rumen Radev passed through the space in front of the protest to enter the building of the National Assembly, the crowd called him "ala-bala" - which became a catchphrase from the leaked recording of "We Continue the Change".
Follow Novinite.com on Twitter and Facebook
Write to us at editors@novinite.com
Информирайте се на Български - Novinite.bg
We need your support so Novinite.com can keep delivering news and information about Bulgaria! Thank you!
Politics
» Be a reporter: Write and send your article