Bulgaria: Pro-Russian Protesters covered the EC Building in Sofia with Red Paint
Politics
|
May 22, 2023, Monday // 08:02
Send to Kindle
The sixth "March for Peace and Neutrality" was yesterday in Sofia. A march for peace was also organized in another 39 cities and settlements in Bulgaria and several abroad. "Bulgaria is a zone of peace, Bulgaria does not participate in any war with people, weapons, ammunition or spare parts", were part of the mottos of the event.
The participants in the march waved Bulgarian and Russian flags.
In the later hours of the day, the building of the representation of the European Commission in Sofia was covered with red paint by the participants of the march.
The "March for Peace" started near the pillars of the National Palace of Culture (NDK) and passed through the capital's streets and boulevards. The procession passed along "Vitosha" Blvd., the Presidency and the National Assembly. The march blocked a number of downtown streets and intersections.
Some of the participants, among whom there were supporters of the pro-Russian "Vazrazhdane" party, deviated towards the representation of the European Commission in Bulgaria and targeted it with red paint. The crowd applauded with shouts of "Bravo".
The march was attended by representatives of various public organizations and political parties, including "Vazrazhdane", BSP, MIR and others.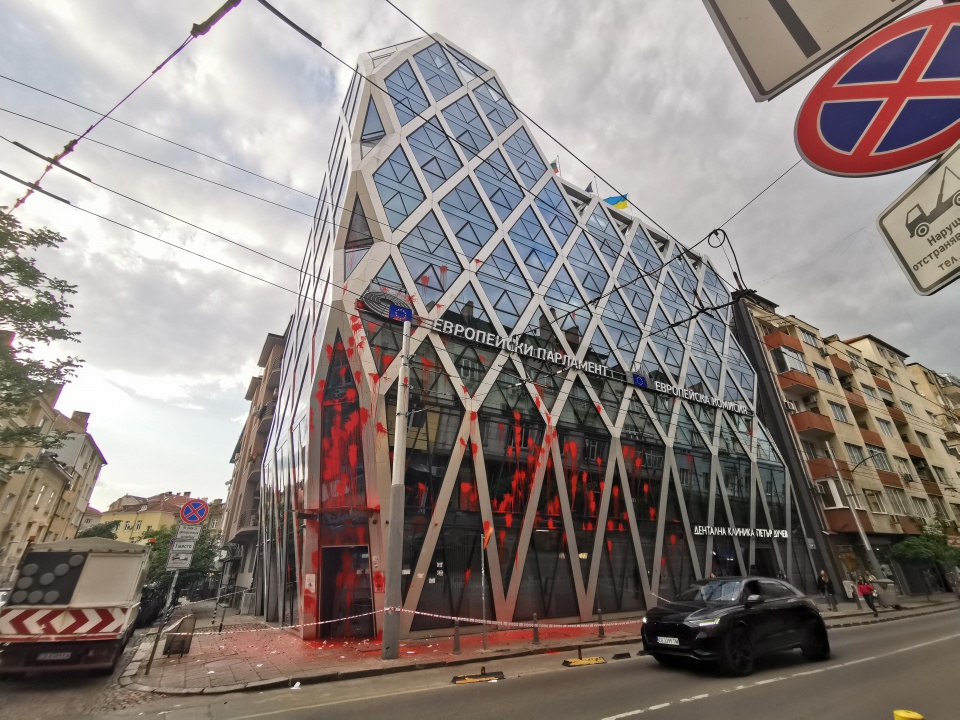 The EC condemned the red paint attack on its representative office in Sofia
The European Commission condemned the acts of vandalism against the building of its representation in Sofia. During yesterday's "March for Peace", some of the participants, some with flags of the "Vazrazhdane" party, deviated from the procession and threw red paint on the building.
"The right to peaceful protest is a fundamental value in any democratic society, but any acts of violence or vandalism against buildings of European institutions are unacceptable," the position notes.
Earlier, our Foreign Ministry also condemned the attack. The vandalism occurred despite the increased police presence in the area of the procession.
Follow Novinite.com on Twitter and Facebook
Write to us at editors@novinite.com
Информирайте се на Български - Novinite.bg
We need your support so Novinite.com can keep delivering news and information about Bulgaria! Thank you!
Politics
» Be a reporter: Write and send your article