Ukraine is Waiting for Hundreds of Thousands of Projectiles for 350 Million Leva from Bulgaria's VMZ-Sopot
Send to Kindle
One of the leading news from Ukrainian media today is that Bulgaria will provide massive military aid to Kyiv against the Russian invaders.
"Bulgaria, which refuses to provide direct military aid to Kyiv and participate in the joint purchase of one million projectiles from the EU, is likely to transfer large quantities of ammunition to Ukraine through intermediaries," the official UNIAN news agency wrote, citing the former defense minister Boyko Noev.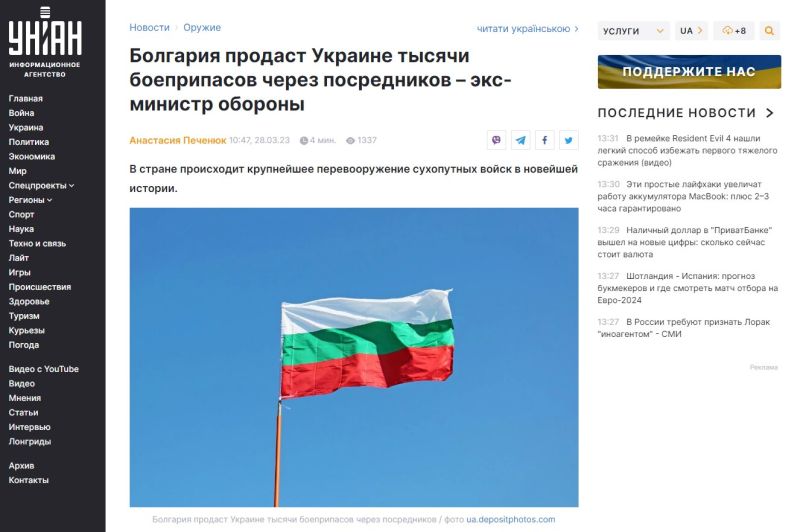 According to their information, earlier this month the caretaker government decided to hand over old ammunition worth about 350 million Bulgarian leva (about 180 million euros) to the state military plant VMZ-Sopot, and over the next three years the state would receive a similar amount of new ammunition. The scheme is officially explained as a "need to renew stocks".
At the same time, Boyko Noev notes that this is "the biggest rearmament of the Bulgarian ground forces in modern history". He is convinced that hundreds of thousands of projectiles will be sold by the Ministry of Defense of Ukraine through intermediaries, writes UNIAN.
According to Noev, such a quantity of weapons can turn the tide of the war in certain parts of the Ukrainian front.
The Ukrainian agency recalls that last week the country's president Rumen Radev stated that Bulgaria will not participate in a joint order for ammunition for Ukraine within the framework of a European project to purchase 1 million projectiles and indicates that, according to Boyko Noev, this public statement of his contradicts on the government's position on aid to Ukraine.
"He is not a monarch and has no authority to express the sovereignty of the state. Bulgaria is a parliamentary republic and the sovereign is the National Assembly. From this point of view, the Council of Ministers says that the parliament should continue to take all measures for further military and military-technical support of Ukraine", emphasizes the former Minister of Defense.
Supplying ammunition to Ukraine through intermediaries will allow President Radev to continue to publicly claim that aid to Kyiv is not being provided, UNIAN points out.
Follow Novinite.com on Twitter and Facebook
Write to us at editors@novinite.com
Информирайте се на Български - Novinite.bg
/UNIAN
We need your support so Novinite.com can keep delivering news and information about Bulgaria! Thank you!
Defense
» Be a reporter: Write and send your article