Pro-Ukrainian Russians briefly attacked Russia's Bryansk region - Putin declared it "Terrorist Attack"
Send to Kindle
@Twitter
The adviser to the office of Ukrainian President Volodymyr Zelensky Mykhailo Podolyak denied the information of Russian propagandists that Ukrainian fighters attacked two villages in the Russian Bryansk region, where they, according to Russia media, "killed civilians, children and took hostages."
He described reports of a sabotage attack by Ukrainian forces as a "deliberate provocation" by Moscow.
"The story with the Ukrainian subversive group in the Russian Federation is a classic deliberate provocation. The Russian Federation wants to scare its people to justify attacking another country and increasing poverty after a year of war. The guerrilla movement in the Russian Federation is getting stronger and more aggressive, be afraid of your partisans...", wrote Podolyak on Twitter.
The Russian Volunteer Corps, which consists of ethnic Russians, recorded an appeal to the Russians straight from the Bryansk region calling for the fight against the bloody Kremlin Putin regimehttps://t.co/EDTzaMDBHh pic.twitter.com/JecG2kcQjJ

— Special Kherson Cat ???????????? (@bayraktar_1love) March 2, 2023
Meanwhile, in Telegram, a Russian opposition organization called the Russian Volunteer Corps claimed responsibility for the armed incursion into the two villages in the Bryansk region.
And now it is Civil War in Russia

Several videos of "Russian volunteer corps" appeared online, taking responsibility for the clashes in Briansk region of Russia https://t.co/aGbbvOLE6v pic.twitter.com/5O9uWLu0T5

— Liveuamap (@Liveuamap) March 2, 2023
"Right now in all Internet resources you can see news that 'Ukrainian sabotage-intelligence groups' who killed children, took hostages, and then urgently left, such things... But all this is a lie of Kremlin propagandists. The Russian volunteer corps entered the Bryansk region to show our compatriots that there is hope and that free Russians with weapons in hand are fighting against the regime," the organization wrote on the chat platform.
The Russian Volunteer Corps also states that they will soon publish a "rebuttal film" of the Kremlin's propaganda claims about what happened in the Bryansk region today.
The spokesman of the Main Intelligence Directorate of the Ukrainian Ministry of Defense, Andriy Yusov, commented on what happened as positive trends taking place in Russia. According to him, the country "continues to transform, purify and free itself from Putin's dictatorship".
"The Russian Federation today is an entity within which there are a large number of inter-ethnic, inter-religious, socio-political and other conflicts. Today there is a public statement of the Russian Volunteer Corps. These are people who are fighting with arms in hand against the Putin regime and those who support him... Maybe the Russians are starting to wake up, realize something and take some concrete measures," he said.
Russian President Vladimir Putin described what happened in Bryansk region as a terrorist attack. "They opened fire, knowing that there were children in the car. They won't succeed, we will prevail over them," said the Russian leader.
⚡️Putin called what happened today in the Bryansk region a terrorist attack pic.twitter.com/XXHpevnUir

— War Monitor (@WarMonitors) March 2, 2023
Earlier in the day, the Russian propagandists - Solovyov, Simonyan, Skabeeva plus their most famous "warmongers" tried to create hysteria around an attack by a Ukrainian group of about 50 fighters on Russian territory. According to their version, saboteurs from Ukraine massacred civilians, took a huge number of hostages and fought street battles.
The Russian Federal Security Service stated that "measures are being taken to eliminate armed Ukrainian nationalists who have violated the state border."
The Russian media even announced that Putin will convene an extraordinary meeting of the Security Council of the Russian Federation within hours, and even that one is already taking place. This was denied by Kremlin spokesman Dmitry Peskov.
Local authorities in the Bryansk region also denied that hostages had been taken, and later this was officially stated even on the ultra-nationalist Russian channel Solovyov Live.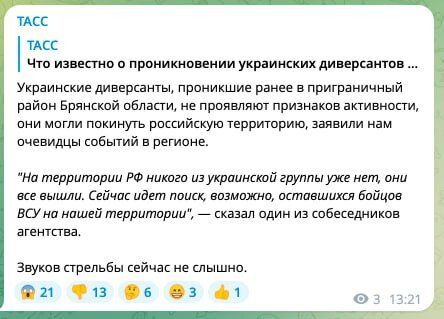 Even the official TASS news agency was forced to "cover up" the story.
"Ukrainian saboteurs, who earlier penetrated the territory of Bryansk region, do not show signs of activity and may have left the territory of Russia. There is no one from the Ukrainian group on the territory of the Russian Federation, they have all left. Now a search is underway for any remaining VSU fighters in our country," said one of TASS's interlocutors.
Follow Novinite.com on Twitter and Facebook
Write to us at editors@novinite.com
Информирайте се на Български - Novinite.bg
/OFFNews
We need your support so Novinite.com can keep delivering news and information about Bulgaria! Thank you!
Russia
» Be a reporter: Write and send your article