Bulgaria: Marches in Support of Ukraine after 1 Year since Russia's Invasion
Politics
|
February 25, 2023, Saturday // 09:35
Send to Kindle
@Dnevnik
A year after the start of the war in Ukraine, Bulgarian and Ukrainian citizens organized marches under the motto "Ukraine - Europe - Freedom - Victory!" in support of the struggle for freedom and independence of the Ukrainian people.
Apart from Sofia, marches were also organized in Veliko Tarnovo, Plovdiv, Stara Zagora, Ruse, Varna and Burgas.
In the capital, citizens expressing sympathy with the Ukrainian people gathered in front of the presidency, then marched to Orlov Bridge.
"Victory for Ukraine" and "Bulgaria is with Ukraine", chanted the participants in the march. In response to the announced solidarity, Ukrainian refugee women who have been living in our country for a year chanted "Thank you, Bulgaria".
Several meter high national flags of Bulgaria and Ukraine were stretched on Orlov Bridge.
Manol Peykov - the Bulgarian who managed to collect 1.65 million BGN donations for Ukraine in a few months - also spoke to the crowd. With these funds, he was able to buy generators and send them to various settlements there. According to participants in the procession, Manol Peykov is the person who managed to do more for Ukraine than our entire country.
"People donate and are honest. Honesty is a key distinguishing feature of those supporting Ukraine in this war," Peykov told the crowd.
The intersection of Orlov Bridge remained blocked for nearly an hour before the procession was officially ended and traffic was resumed at 9:00 p.m.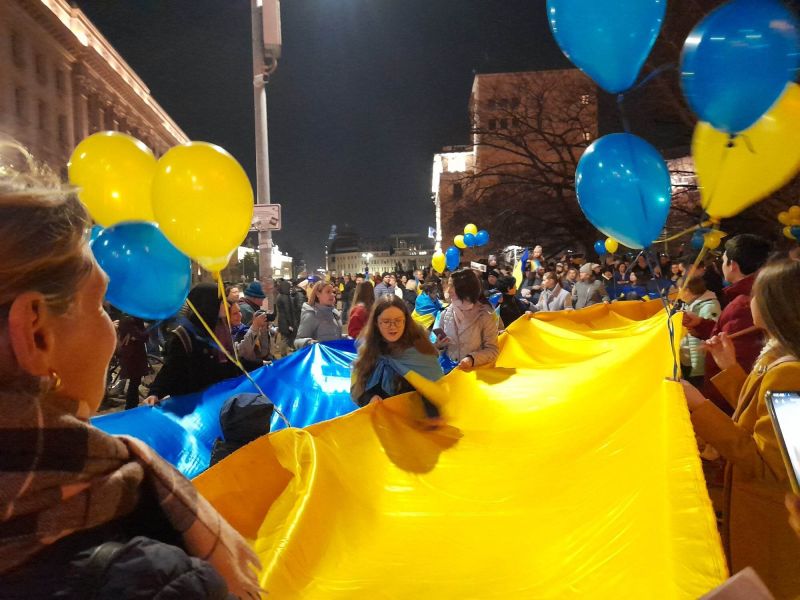 "Bulgarians and Ukrainians stand side by side in a peaceful march in support of a free Ukraine," said the participants in the march when they gathered in front of the presidency. The purpose of today's march was to honor the memory of the thousands of victims, to help refugees and to express support for the efforts of the Ukrainian people to defend their freedom.
At the beginning of today's peaceful demonstration, the crowd observed a moment of silence in memory of the victims of this war.
"Bulgaria and the Bulgarian people know clearly who is the aggressor in this war, despite the attempts of some political forces and state figures who, behind the phase of pacifism and neutrality, call on the world to abandon Ukraine," said the organizers. In order to honor the memory of the victims of Russian aggression and to protest against the position of the Bulgarian president regarding the war, representatives of non-governmental organizations also gathered in front of the presidency. Among them were the "BOEC" movement and the Atlantic Council.
"Bulgaria must be part of Europe and support with all means, including weapons," said the organizers of the march from the "BOEC" Association.
Follow Novinite.com on Twitter and Facebook
Write to us at editors@novinite.com
Информирайте се на Български - Novinite.bg
/BNR
We need your support so Novinite.com can keep delivering news and information about Bulgaria! Thank you!
Politics
» Be a reporter: Write and send your article