Gas in Europe fell below 50 Euros per megawatt hour for the first time since September 2021
Send to Kindle
@Pixabay
European natural gas futures fell below 50 euros per megawatt hour on Friday for the first time in 17 months as the region's worst energy crisis in decades eases, but there are emerging signs that further price declines will be few and far less likely.
The continued fall in the price of the blue fuel is the result of milder than usual weather for this time of year, still significant stocks in European gas storages towards the end of winter and record imports of liquefied natural gas (LNG).
As of 15.00 p.m. Bulgarian time, the short-term futures of the Dutch gas hub TTF fell by 5% to 49.40 euros per megawatt hour, reaching the lowest price levels since September 2021.
Prices are already down more than 80% from a record peak in late August 2022 of just under 350 euros per megawatt hour, when dwindling supplies of the Russian blue fuel hit Europe, hurting the region's economy and pushing inflation to the highest levels in decades. Now, however, the old continent is witnessing a sharp turnaround in view of relatively mild winter weather, efforts to reduce energy consumption and strong flows of liquefied natural gas from the US to Qatar.
Gas TTF futures chart (in EUR per MWh)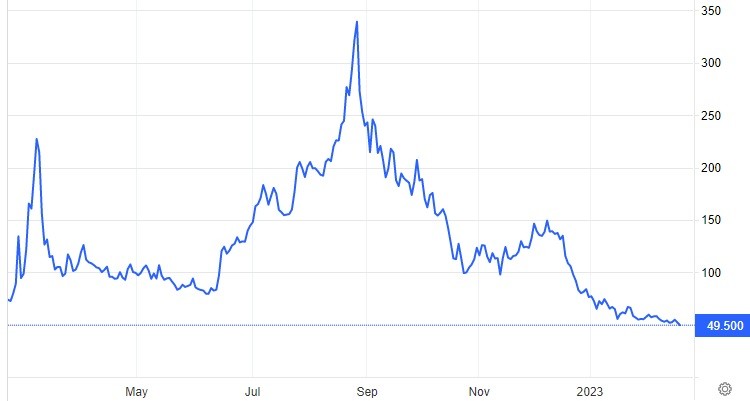 At the same time, as Europe approaches the end of the winter season, gas storage facilities are about 65% full - well above the 10-year average of 54% for this time of year. There is also an increase in electricity generation from alternative energy sources, including wind and nuclear power. In addition, energy saving efforts by households and businesses helped to avoid energy deficits. New data showed German gas demand was about 8% lower in early February than the four-year average until 2022. Meanwhile, Europe continues to look for alternatives to Russian gas supplies, including from Qatar and Oman, while the second-largest US exporter of liquefied natural gas, Freeport, resumed supplies after several months of disruption due to a fire.
Analysts, however, doubt whether the decline in prices will last much longer. As winter draws to a close and heating demand declines, lower prices could make gas more economical for power generation in Europe than alternatives such as coal.
"Gas prices have fallen to a range that suggests it is now more profitable to run the most efficient gas plants than the least efficient coal plants," noted Bloombergnef analyst Stefan Ulrich.
Demand for gas from India to China is also rising. Prices may rise if there is also prolonged cold weather before the end of winter or if there are supply disruptions.
Follow Novinite.com on Twitter and Facebook
Write to us at editors@novinite.com
Информирайте се на Български - Novinite.bg
/BNR
We need your support so Novinite.com can keep delivering news and information about Bulgaria! Thank you!
EU
» Be a reporter: Write and send your article