Bulgaria: Orange Code for Snow in 4 Regions for Tomorrow
Send to Kindle
@Dnevnik
The National Institute of Meteorology and Hydrology announced an orange code for snowfall for tomorrow, January 26, for the regions of Blagoevgrad, Pazardzhik, Plovdiv and Smolyan. A yellow code has been issued for seven other districts in Western Bulgaria. For Kardjali, the code for snow and rain is also yellow, and for Haskovo, a yellow code for rain has been announced.
Tomorrow will be cloudy. There will be snowfall, mainly in southwestern Bulgaria, and in the northeastern regions mainly rain, according to the NIMH forecast.
On the night of Friday, precipitation will cover almost the entire country, snow will fall in the western half, and rain in the eastern half. Snowfall will be significant in the Rila-Rhodope region, and in some places in the eastern half of the country, there will be conditions for ice. A light to moderate east-northeast wind will blow. The maximum temperatures will be between 1°C and 6°C, in the eastern regions a little higher, in Sofia 1-2°C.
It will be cloudy in the mountains with snowfall, significant after noon and Friday night in the Rila-Rhodope massif. A moderate to strong southeast wind will blow on the highest peaks of Rila and Pirin. The maximum temperature at an altitude of 1200 meters will be around minus 2°C, at 2000 meters - around minus 4°C.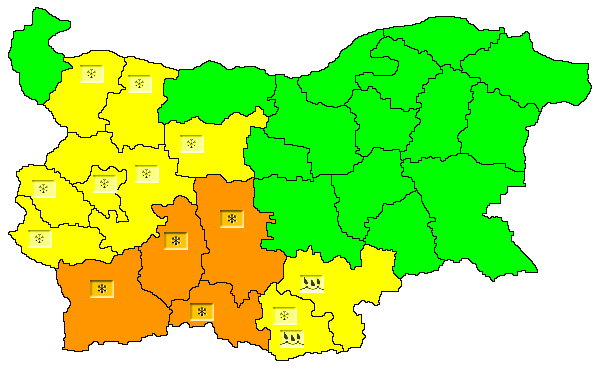 Follow Novinite.com on Twitter and Facebook
Write to us at editors@novinite.com
Информирайте се на Български - Novinite.bg
/BNR
We need your support so Novinite.com can keep delivering news and information about Bulgaria! Thank you!
Environment
» Be a reporter: Write and send your article