Day 328 of the Invasion of Ukraine: Putin wants Donbas Captured by March (UPDATED)
Send to Kindle
Putin (left) and Gerasimov (right)
Here are the highlights of events related to the war in Ukraine over the past 24 hours:
Embarrassing comments about the Russian attack on Dnipro cost Oleksii Arestovych his resignation
The adviser to the chief of staff of the Ukrainian president, Oleksii Arestovych, is resigning, he announced on Facebook.
Arestovych came under fire after he announced on the Feygin Live YouTube channel that the missile that destroyed a residential building in Dnipro had been shot down by Ukrainian air defense forces.
At least 40 civilians were killed in Saturday's enemy attack on a residential block, and 72 apartments were destroyed. The spokesman of the Air Force of Ukraine, Yuriy Ignat, reported that the Russian army fired an X-22 missile, designed to destroy aircraft carrier groups at sea, at the 9-story residential block in Dnipro. In slang, they call X-22 "killer of aircraft carriers".
However, Arestovych's statement was immediately used by Kremlin propagandists as alleged proof of their "right" that Ukraine itself is guilty of killing civilians.
Later, Arestovich clarified that this was only a "supposition" and that the tragedy in Dnipro was the result of Russian armed aggression. And he explained that the mistake he made was due to overwork.
"Arestovich's words had to be refuted by the Air Force. The Air Force emphasizes that the X-22 missile was not shot down by the Air Defense due to the lack of funds for this in Ukraine. The Verkhovna Rada has already announced that it has begun collecting signatures for the release of Arestovich ", commented UNIAN.
"I want to set an example of civilized behavior: a fundamental error means resignation," Arestovych wrote.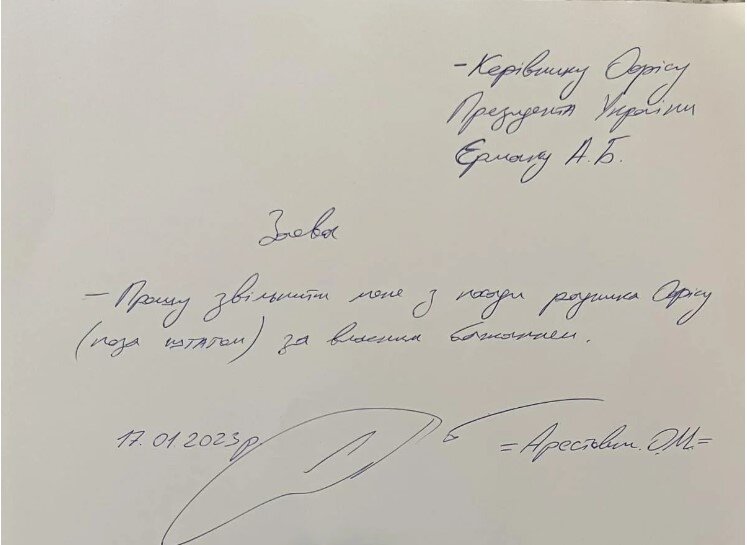 UNIAN ironically notes that he did not say whether this was his final decision. The agency reminds that on January 17, 2022, Arestovych also announced that he was leaving his post as the spokesperson of the Ukrainian delegation to the Trilateral Contact Group on Donbas, but this never happened.
Russian shelling of 25 settlements in Donbas
Cities and villages in Donbas are under Russian shelling, the Ukrainian General Staff of the Army announced.
Two days after the rocket attack on a residential building in Dnipro, Russia renewed the artillery shelling in Donbas, where 25 settlements in the Bakhmut and Avdiivka regions were attacked. According to data from the Ukrainian General Staff, Russian forces are also shelling the northeastern regions of Kharkiv and Sumy, as well as southern Kherson.
The United States reaffirmed its determination to continue supporting Ukraine in the areas of security, economy and energy. In Kyiv, US First Deputy Secretary of State Wendy Sherman spoke with Ukrainian President Volodymyr Zelensky and Defense Minister Oleksii Reznikov and reiterated Washington's "unwavering" support for Ukraine.
Britain has committed to sending 14 Challenger 2 tanks to the front line in Ukraine, as well as around 30 large AS90 self-propelled guns.
Tomorrow, the European Parliament is expected to vote on a resolution that will increase the pressure on Germany to join the so-called "tank coalition" for the supply of battle tanks to Ukraine.
Poland and Finland have already said that they are preparing to send German Leopard tanks to Ukraine, but this is only possible with the agreement of the manufacturer Germany.
The Russian strike in Dnipro is a war crime, said the Swedish EU presidency
The Russian attack on an apartment building in the Ukrainian city of Dnipro, which caused many casualties, is a war crime, the perpetrators of which must be tried, the Swedish rotating presidency of the European Union said on Monday, as quoted by AFP and BTA.
At a joint press conference with the President of the European Council, Charles Michel, the Swedish Prime Minister, Ulf Kristersson, denounced the "horrific attack", stressing that children were among the dead.
"Deliberate attacks on civilians constitute a war crime and those responsible must be prosecuted for as long as necessary," Kristersson added, referring to Saturday's strike, which the Kremlin has denied responsibility for.
Sweden and the EU "condemn in the strongest terms Russia's systematic and ongoing attacks against civilians, against civilian property and against vital infrastructure in Ukraine, including the missile attack on a residential building in the city of Dnipro," the Swedish prime minister said.
The death toll from a Russian missile attack that hit a residential building in the Ukrainian city of Dnipro rose to 40 yesterday afternoon, with dozens still missing.
Ukrainian military intelligence: Putin wants Donbas to be captured by March
A representative of Ukrainian military intelligence said that Russian President Vladimir Putin has ordered the new commander of the so-called special military operation in Ukraine, General Valery Gerasimov, to capture Donbas by March, Ukrainian agency UNIAN reported, quoted by BTA.
Andriy Yusov of Ukraine's Defense Ministry's General Directorate of Intelligence (HUR) said that Putin is not paying attention to what is actually happening on the front. The Russian president wants to destroy Ukrainians as a separate people and nation, and Ukraine as an independent state, he warned.
Yusov did not elaborate on these claims. However, the representative of the Ukrainian military intelligence noted that Russia has already changed the deadlines for the implementation of war-related tasks many times. More specifically, they wanted to "capture Kyiv in three days", he emphasized and predicted that the occupiers would not succeed this time either.
Yusov confirmed that Ukrainian intelligence has information that the Russian armed forces may be preparing an offensive in the southern Zaporozhye region.
In recent days, Defense Minister Oleksii Reznikov and Secretary of Ukraine's National Security and Defense Council Oleksiy Danilov have said it is possible that Russia could try to launch a major offensive in the spring. Entrusting the "special military operation" personally to the chief of the Russian General Staff may also be a sign that the Kremlin is preparing a serious invasion.
On Saturday, Ukrainian military intelligence already warned that Russia was preparing for a long war.
In an assessment published Sunday on its website, the Institute for the Study of War said the Kremlin was belatedly proceeding with personnel mobilization, reorganization and industrial measures it should have taken before the invasion of Ukraine last February. According to the Washington-based think tank, Russia is about to start conducting the "special military operation" as a major conventional war.
Since the beginning of last month, Putin has publicly signaled that the campaign in Ukraine could be a "long process." In several speeches in December, he indirectly outlined his goals: to improve Russia's military mobilization processes, revitalize the country's defense industrial base, centralize the Kremlin's control over Russia's information space and restore the authority of the defense ministry.
Zelensky: The strike in Dnipro shows the need for faster Western arms deliveries
The deadly Russian missile strike on an apartment block in the eastern Ukrainian city of Dnipro shows the need for faster and better coordinated solutions for supplying weapons to Ukraine, President Volodymyr Zelensky said, as quoted by DPA and Reuters.
At least 40 people were last reported dead in Saturday's attack and 25 remain missing.
In his regular evening video address, Zelensky pointed to "the fact that Russia is preparing new attempts to take the initiative in the war" as another argument.
He specifically praised Britain, which has just announced it will send Ukraine the weapons it needs.
"A new package of defense aid was announced - exactly what is needed: heavy battle tanks, other armored vehicles and artillery," Zelensky pointed out.
Ukraine's president said he expected new arms shipments to his country to be announced at the World Economic Forum in Davos, which essentially starts today, and at a meeting of the Contact Group on Ukraine at the US Ramstein Air Force Base in Germany on Friday.
Tikhanovskaya: The exercises in Belarus are a bluff
Meanwhile, the exiled Belarusian opposition leader Sviatlana Tsikhanouskaya called the joint military exercises of Russia and Belarus, which started yesterday, as a bluff, reported AFP and Reuters, quoted by BTA.
The main purpose of this bluff is to divert Ukrainian military units from the front line, Tsikhanouskaya stressed at the World Economic Forum in Davos. She predicted that attacks from Belarus were unlikely, although she admitted that missiles could be launched from there.
At the same time, the exercises are aimed at scaring the citizens of Belarus with a possible war and making President Alexander Lukashenko look like a leader who is doing everything possible to avoid conflict, Tsikhanouskaya said.
"This is a show for the people of Belarus, to threaten them, to tell them: look, the Russian army is here, so keep quiet, don't resist," she added.
Tsikhanouskaya described as a "farce" and "revenge" on the part of Lukashenko the trial in absentia against her in Belarus starting tomorrow. She pointed out that she tried to contact her appointed lawyer, but did not receive a response.
Kyiv seeks more Western aid at Davos
A large Ukrainian delegation, led by first lady Olena Zelenska, is in Davos this week for the World Economic Forum to persuade the West to deliver more humanitarian aid and weapons to the country, AFP reported, cited by BTA. At the same time, an American delegation led by First Deputy Secretary of State Wendy Sherman is visiting Kyiv.
"That's exactly why I'm here," Vitali Klitschko, the mayor of the Ukrainian capital Kyiv, told reporters in the Swiss mountain resort when asked about the need for more aid nearly a year after the Russian invasion began. "That's why it's very important to meet and talk to each other. It's very important to make personal contacts," said the former professional boxer.
Critical infrastructure in Kyiv could fail at any moment, Klitschko admitted, quoted by Reuters. He pointed out that sporadic Russian missile attacks combined with sub-zero temperatures put local authorities under increasing pressure.
Ukrainian First Lady Olena Zelenska will be among the first speakers to speak in person at Davos today. President Volodymyr Zelensky will make a video address tomorrow.
Many more representatives of the Ukrainian authorities are expected in Davos this week, including the mayors of Mykolaiv and Lviv and the ministers of economy, culture and digital technologies, making the country's delegation one of the largest.
As in May, Russian politicians and businessmen were not invited to Davos. Many of them, however, have been banned from traveling to Europe.
Klitschko warned of the risk of an energy collapse of Kyiv
Kyiv is short of a third of its electricity needs and the system could collapse at any moment
This is what the mayor of the Ukrainian capital Vitali Klitschko told Reuters, according to whom the system could collapse. "We are not talking about a collapse, but it could happen at any moment, because at any moment a Russian missile could destroy our critical infrastructure," explained Klitschko in Davos.
Klitschko is referring to the massive strikes on the Ukrainian energy infrastructure that began in October, which severely affected the Ukrainian energy sector. Kyiv was forced to declare a curfew, this also happened in other areas, where power plants and other facilities were targeted.
"It is very cold in Ukraine right now, so life without electricity and heating is almost impossible. The situation is critical. We are fighting for survival," he said.
Part of the work of the delegation he is traveling with is to discuss how the reconstruction of Ukraine will proceed. "Today we talk about the war, about ending this senseless war, but we have to think about the day after."
Meanwhile, on Facebook, the head of Kyiv's electricity and gas supplier YASNO, Sergey Kovalenko, wrote that the capital was getting 974 megawatts of the required 1,600. "The situation remains complicated and restrictions are the only option not to make it worse ", he noted.
According to him, before the war, Ukraine produced 55% of its energy from nuclear power plants, 29% from thermal plants, 7% from hydroelectric power plants, 9% from renewable sources. Currently, however, the occupied Zaporizhzhia NPP, the largest in Europe, is not supplying energy. The damage to the thermal power plant worsens the situation, therefore, while the energy system is restored, "patience" is needed.
On Russian TV: The authorities are lying that we are achieving our goals in Ukraine
The authorities are lying that Russia is achieving its goals in Ukraine.
This was announced by the Russian journalist Maxim Yusin during a guest appearance on a propaganda show.
"Russian representatives continue to insist that everything in Ukraine is going according to plan, that all the goals of the special military operation will be achieved. But let's recall what goals were set almost a year ago, point by point. 'Demilitarization' - the Ukrainian army according to many is much more combat-ready than it was 10 months ago. Overall, it is clear that demilitarization has not worked."
He pointed out that the Ukrainians received Western weapons, "which they never dreamed of".
"Denazification - Azov commanders captured in Mariupol were not brought to trial, although there were plans to do so. They were exchanged, and in general, their ideas are more popular in Ukraine than ever. Security of Russia - NATO, with the accession of Sweden and Finland, it will come very close to St. Petersburg, and traditional Russian regions such as Voronezh, Belgorod, and Kursk, not to mention Crimea, are under constant fire. A year ago, this would have seemed incredible."
Yusin concluded with the last goal of the "special military operation" - the security of the residents of Donbas.
"According to the authorities of the DPR, in the whole of 2001 (probably referring to 2021) 7 civilians died in the whole republic. At the moment we do not have exact data, but the figure '1100' has already been mentioned for dead civilians after February 24. But this does not include the residents who were mobilized and died. Moreover, the front line has not been moved far from Donetsk and the bombing continues."
Finally, the journalist turned to the Russian authorities.
"So is everything going according to plan, or is it time to admit that this is not the case and to correct a little bit, at least the official rhetoric".
All declared goals of the "special military operation" are achieved to the exact opposite - propagandist Maksim Yusin.

Are they beginning to suspect something? pic.twitter.com/FE25HjMQkQ

— Anton Gerashchenko (@Gerashchenko_en) January 16, 2023
It's interesting to watch the horrified faces of the other guests in the studio as they listen to this relentless deconstruction of the 10-month war campaign.
Yusin's statement is an indirect attack on Vladimir Putin himself, who two days ago announced that "the dynamics of the special military operation are positive."
A man that looks like Putin says there are positive trends in the "special military operation" after spending 10 months taking a town with 10,000 population, razing it to the ground. pic.twitter.com/8BGgwcS0X3

— Dmitri (@wartranslated) January 15, 2023
Why exactly does Ukraine want Leopard 2 tanks and which other ones would help
German Chancellor Olaf Scholz is under pressure to approve an increase in international military support for Kyiv by authorizing the export of Leopard 2 battle tanks to Ukraine. Germany has so far resisted such a move and has said that Western tanks should be supplied to Ukraine only if there is agreement among Kyiv's main allies, especially the United States.
Western rulers want to strike a balance between ensuring Ukraine can defend itself and not supplying weapons that could encourage Kyiv to launch attacks against Russia or draw NATO into conflict with Moscow.
Here are some facts about the Leopard 2 and the debate over whether to deploy it to Ukraine.
Approval from Berlin
Re-exporting the Leopard requires approval from the German government, so other countries with such tanks could not send them to Ukraine without it. Some German officials have signaled a softening ahead of a meeting of Ukraine's allies in Ramstein, Germany on Friday, where the governments will announce their latest pledges of military support for Kyiv.
Vice Chancellor Robert Habeck, whose economy ministry is responsible for approving defense exports, said Thursday that Berlin should not stand in the way of countries that want to send Leopard to Ukraine. That would give the green light to countries like Poland, which has said it wants to take such a step as part of a coalition.
Scholz has not yet said whether he shares Habeck's opinion or would allow Germany to send some of its Leopards to Ukraine.
Why the West has not sent tanks until now
Western officials are seeking to avoid more direct involvement in the war.
Although Moscow condemned the escalation of arms deliveries to Ukraine, this did not lead to any military consequences for the West. This made governments more open to the idea of sending tanks.
Until now, Ukraine has relied mostly on variants of the Soviet-era T-72 tank.
Some Western officials noted another source of concern: that Russia or even China could acquire advanced Western weapons stationed in Ukraine, allowing Moscow or Beijing to steal Western military technology.
Why Ukraine wants "Leopard 2"
The tank is considered one of the best in the west.
German defense company Krauss-Maffei Wegmann has produced more than 3,500 Leopard 2 tanks since 1978.
The tank weighs over 60 tons, has a 120 mm smoothbore gun and can engage targets at a distance of up to five kilometers.
About 20 countries use Leopard 2. This means that some could give some of their tanks to support Ukraine. It would also make it easier for Ukraine to maintain and train the crew.
Among the countries operating with "Leopard" are Canada, Denmark, Finland, the Netherlands, Norway, Austria, Poland, Spain, Sweden and Turkey.
How many Leopard 2 tanks are available?
"Leopard 2" is one of the most widely used Western tanks. But overall, three decades after the end of the Cold War, tanks and other heavy weapons are scarce in most of the West. Many countries drastically downsized their armies after the fall of communism.
Germany has about 350 Leopard 2 tanks today, compared to about 4,000 main battle tanks at the height of the Cold War, says German military expert Karl Schulze.
At the same time, it is almost impossible to quickly purchase a large number of Leopard 2 tanks. The German defense industry is prohibited by law from producing them for stockpiles. Countries ordering new tanks should be prepared to wait two to three years for delivery.
Even if production ramps up, experts say it could take at least two years for the first new tanks to leave the factory.
What are other western battle tanks?
The United States operates thousands of M1 Abrams tanks manufactured by General Dynamics, but they are considered unsuitable for Ukraine because they are powered by gas turbine engines.
"The Abrams' kerosene consumption is so high that Ukraine has no chance of using it in the current wartime supply situation," says Schulze. He adds that although the Abrams can be powered by diesel, this will not bring consumption down to an acceptable level.
"Leopard 2" works with a more economical engine that burns diesel fuel, which is also easier to obtain than kerosene.
Britain is considering supplying some of its Challenger 2 tanks to Ukraine, according to media reports.
France has Leclerc tanks. It did not say whether it would like to give some to Ukraine.
"The sooner Ukraine wins, the better for everyone"
UK Foreign Secretary James Cleverly's position on the war in Ukraine:
"The UK is our closest ally."
"That's how US Secretary of State Antony Blinken described the relationship between our countries when I met him for the first time as Secretary of State last September. In fact, I have met him many times before, even when I was Deputy Minister. We work so closely with our friends in America that it helps to know each other.
I will see him again this week in Washington, and the top topic on our agenda will be how to counter Vladimir Putin's barbaric attack on Ukraine. Britain and America did the right thing by helping Ukraine steadfastly defend its territory.
Both sides are committed to one goal: for our Ukrainian friends to win - and they will win.
Now is not the time to back down or take our foot off the gas pedal. On the contrary, now is the time to accelerate and continue to provide Ukraine with the support it needs.
This is exactly the decision taken by our Prime Minister based on the advice of our military experts.
Ukraine's heroic armed forces managed to reclaim thousands of square kilometers from the Russians, driving them out of more than half of the territory that was seized last year. But Putin has given no sign that he wants to withdraw his forces. If we want to change his mind, Ukraine will have to reclaim more land.
Today, the Russian army is on the defensive. The morale is wretched. The losses are huge. A great number of vehicles and equipment were destroyed. The troops do not have enough precision weapons. Their supplies are limited due to the unstable state of Russian military logistics.
And Putin once again replaced the general responsible for his failed campaign. In fact, none of the Russian operational commanders appointed at the start of the invasion on February 24 last year are still in office.
So this is the right time for Ukraine to use its advantage. That is why Britain decided to speed up and increase its military support.
We will supply Ukraine with up to 14 Challenger 2 main battle tanks - one of the most formidable fighting machines in the world, proven in the battles in the Persian Gulf.
The Minister of Defense will confirm the details in the Parliament.
We also continue to support the brave people of Ukraine by increasing diplomatic and economic pressure on Putin and Russia. Together with our international partners, we have implemented the most comprehensive and severe package of sanctions ever imposed on a major economy.
With their courage and tenacity, our Ukrainian friends certainly proved that if they have the necessary tools, they will get the job done. Our task is to work with America and other allies to provide them with what they need.
And the task is to free Ukraine from the Russian invaders. Nobody wants a long war. The only one who stands to gain from prolonging the bloodshed and destruction is Putin. Only he will be happy if the turmoil in the global energy markets increases your electricity and gas bills.
This is another reason why Great Britain provides Ukraine with all possible support. If in the future our friends decide to enter into peace talks, we want them to be in the strongest possible position to reach a lasting settlement.
Britain can play this role because our armed forces are among the best in the world. We can offer our Ukrainian friends some of the best weapons and equipment. We can also work together with our outstanding network of friends and partners from all continents.
After Washington I will travel to Canada - the only country that is together with the UK is in NATO, the Commonwealth, the G7, the G20 and the Five Eyes intelligence alliance. Since the beginning of the crisis in Ukraine, Canada has been one of its staunchest supporters worldwide.
The UK and our allies support Ukraine to the hilt, and I cannot remember a time when NATO was more united and Russia more isolated. We do all this not only because support for Ukraine is right in itself, although of course it is.
We do it because the sooner Ukraine wins and peace returns to Europe, the better for our national security and economy. The sooner Ukraine wins, the sooner world food prices will stabilize and the suffering of millions of people in developing countries will be alleviated. Better for Britain, better for our allies and better for everyone.
Except for Putin."
Follow Novinite.com on Twitter and Facebook
Write to us at editors@novinite.com
Информирайте се на Български - Novinite.bg
We need your support so Novinite.com can keep delivering news and information about Bulgaria! Thank you!
Ukraine
» Be a reporter: Write and send your article